An engine room fire on board the Carnival Liberty cruise ship while in port on St.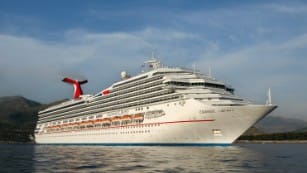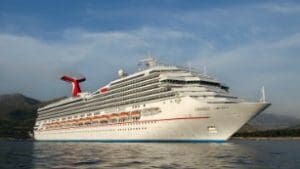 Thomas in September 2015 was probably caused by improperly tightened bolts on a fuel inlet flange, the National Transportation Safety Board concluded.
According to a final NTSB report, dated June 21, at about 11:33 a.m. Sept. 7, 2015, a fire broke out in the engine room aboard the Carnival Liberty cruise ship. The ship's master ordered passengers aboard the vessel to evacuate to the dock.
The crew used the ship's water mist and carbon dioxide firefighting systems to extinguish the fire.
"The National Transportation Safety Board determines that the probable cause of the engine room fire aboard the Carnival Liberty was loosened bolts, likely resulting from improper tightening during prior maintenance and vibration of the piping over time, on a fuel supply inlet flange on diesel generator 4, which triggered an uncontrolled fuel spray from the inlet flange onto a hot surface on the diesel generator."
Additionally, the final report provides details on the incident, noting that fuel pressure alarms and fire alarms went off for the Liberty's No. 4 diesel generator, located in the aft engine room. The third engineer activated the space's HI-FOG fire suppression system within one minute of the alarm, and the second engineer switched the ship's electrical load over to the No. 2 generator, which is in the ship's forward engine room. Shortly thereafter, the chief engineer arrived at the control room and authorized the closure of fuel and lube oil shutoff valves for generators No 4-6. Within four minutes of the fire erupting, the engineering team had also closed off fans and dampers to the aft compartment.
By 12:36 p.m., the report notes, temperature readings on the outside of the compartment's watertight doors indicated that the fire was extinguished.
No one was injured in the fire, nor was any environmental damage reported. Fire damage to the ship was estimated at $1.725 million.
As a result of the investigation, the NTSB made recommendations to the ship's parent company to implement ship-specific familiarization training regarding the use and limitations of fixed water-based local application systems in machinery spaces. Carnival Corporation also was urged to develop and or improve procedures to manage and account for all persons aboard in the event of a mass evacuation of a ship while in port.