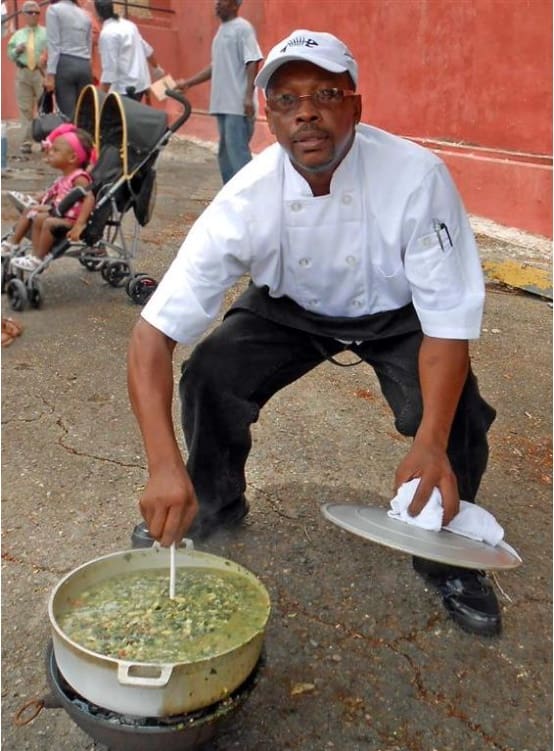 With the fifth annual Coal Pot Cook-Off this month, it's beginning to look like the feast honoring the old, traditional way of cooking has become a St. Thomas culinary tradition.
This year the event will again be at Emancipation Garden, on July 22 from noon to 4 p.m. Put on by the St. Thomas Historical Trust, it is free and open to everybody, so bring the family. Prizes will be awarded to the best and most creative cooks. There will be live music and local crafts
The cook-off was the idea of one of the Trust's interns, Larise Joasil, according to Trust President Ronald Lockhart. A St. Thomas native, Joasil conducted a demonstration making johnny cakes over a coal pot in front of the Trust museum in the summer of 2012 on Roosevelt Park just for fun. It caught on, and she suggested having a community cook-off.
The coal pot was once the only method of preparing a hot meal and, many say, it is still the best. Coal pots are a cooking method dating from before kitchen stoves became common. The pots are ceramic, iron or aluminum, all of which have been represented in the past two years.
The pots are not by any means only a memory; they can be seen bubbling away with all sorts of soups and stews at the monthly Bordeaux farmers' fair.
Sponsors this year include Viya, St. John Brewers, Merchants Commercial Bank, SeaChest, KLR Restaurant Supply and the V.I. Department of Tourism.