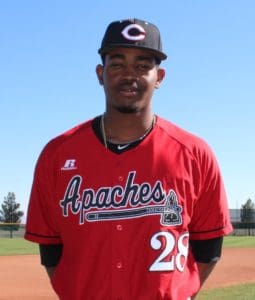 Jamori Blash left St. Thomas Thursday, taking the next step in his career. Drafted June 14 in the 23rd round of the Major League Baseball draft by the Washington Nationals, the 21 year-old Blash is off to show his new team what he's made of.
Speaking before heading out of the territory, where he was home for the summer after finishing his sophomore year at Cochise College in Arizona, Blash said there were still a few unknowns, but that he couldn't wait to see where he could fit into the franchise's lineup. Blash, who is a first baseman, said that scouts have previously angled for him to play third, for which he has the footwork, or outfield.
Asked where he prefers to be, Blash said it doesn't matter, as long as he plays.
"They could put me at all three, it doesn't matter," he said. "Just as long as I'm on the list."
Blash also said that he could be at either rookie camp in Florida or Alabama, or in between both.
"I don't know yet, but I'm excited," he said. "I don't know exactly how else to feel, because I haven't experienced anything yet, but I am ready to fly up, talk to the guys and have them treat me like any other player."
Blash grew up practicing with his brother, San Diego Padres prospect Jabari Blash, and said that he plans to bring their workout philosophy with him to camp.
"I've always loved baseball and I watched my brother play while I was growing up," Blash said. "I even ended up begging my mom to send me to Georgia so that I could play. Through all of that, I learned from my brother to be humble, and even now, when he's in the off season, he kept me working hard and told me that I don't have to go up there and compete. I just have to be who I am and show who I am."
Blash's road to the top also included time spent with mentor Darren Canton, founder of Future Stars Baseball, which focuses on getting local baseball players into college and exposed to scouts.
"Cochise found me because I played with Darren," Blash said. "He was there when the scouts called me last year and I didn't get drafted. But he told me to go back to school, which I did, I got a full ride, and while I think I did better my freshman year on the field, this time I made the cut."
Now, Blash said he is looking forward to getting to know his team, which includes the likes of outfielder Bryce Harper and pitcher Stephen Strasburg.
"I'm not going up there to compete, just like my brother said," Blash added. "It doesn't matter who was drafted when or during what round. I'm going there to be me, to have fun, bond with my teammates and earn a spot. I'm going to play."