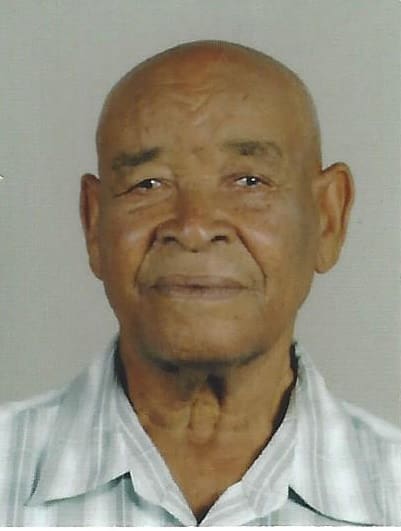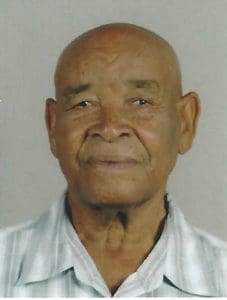 Reginald O. Hodge, of Frenchman Cay West End, Tortola, British Virgin Islands, better known as "Reggie Bull," "Big Hodge" or "Old man," died on Wednesday, April 19, at Peebles Hospital at the age of 86.
He is survived by his wife, Ethlyn T. Hodge; daughter and caretaker, Evelyn G. Hodge-Maloon; daughters: Genita Hodge, Donna Hodge, Constance and Janell Hodge, Annie Dawson and Diana Bailey; sons: Henry Hodge and Donald Hodge; brother, John (Tonto) Hodge; granddaughters: E'ma Z. Edwards, Ashlyn A. Smith, Latisha and Slyvette Turnbull, Echelle and Michelle Dua Turnbull; son-in-law, Carl A. Maloon; and stepsons: U.S. Army Charles E. Turnbull Sr., U.S. Army Leonard W. Turnbull Sr., U.S. Army Vincent Turnbull Sr., U.S. Army Minister Commanding Sgt. Maj. Dean L. Turnbull Sr.
He is also survived by godson, Belto Penn; grandsons: Vincent Turnbull Jr., Roy A. Turnbull Jr., Michael Turnbull Jr., Dwayne Steplight Turnbull, Joel Edwards Jr., Darius L. Edwards, Kristopher and Archibald Harris, Collin W. Smith, Michael A. Dawson, Vincent A. and Stanley A. Dawson Jr.; and nieces: Claudette Hodge, Laurie Lee Hodge, Alecia Brooks, Angela and Alda Brooks, Mariel Hodge Rumney, Muriel Smith, Jo Anne and Charlene Donovan, Vivian Elmes, Roslyn Carty.
Other survivors include nephews: Julien H. Hodge, Franklin Hodge, Joseph L. Hodge, John A. Hodge, James E. and James J. Hodge, Dale and Daniel Donovan Jr.; special cousins: Wendell Parsons, Leona Escalera, Iris Parsons, Helen Pickering Nicolas, Cecil Forber, Ashley Boynes Sr., Betty Oliver and Frank Wilson, Joyce George, Mr. Evelyn Hodge and Annette Chucotu; as well as many other family and friends too numerous to mention.
Relatives and friends are respectfully invited to attend the first viewing from 6-8 p.m. on Friday, May 5, at Tortola Memorial Services/Davis Funeral Home, Purcell Estate. The second viewing will be held from 9-10:30 a.m., Saturday, May 6, at Zion Hill Methodist Church, followed by a funeral service immediately following at 10:30 a.m. Interment will be at Cappoon's Bay Burial Ground, West End.
There will be a special ferry provided by Inter Island Boat Services round trip from Red Hook to West End leaving at 7:15 a.m. and 8 a.m. Transportation will be provided from West End Ferry dock by Clinton (Bouncer) Rumney, Alphonso Barry, Mario Smith, Smerna Rumney and Urban Herbert to Zion Hill Methodist Church and onto Cappoon's Bay burial ground and back to the West End Ferry dock. Also, transportation will be provided from Carrot Bay in Front of Sappy's Bar and Resturant by Irad (Mr. D.) Donovan and Tun Jeh to Zion Hill Methodist Church to Cappoon's Bay burial ground and back to Carrot Bay.
Obituary submitted by Hurley Funeral Home and Cremation Center of St. Thomas, St. John, St. Croix and Tortola.
For online condolences, please visit us at www.hurleydavisfuneral home.com.