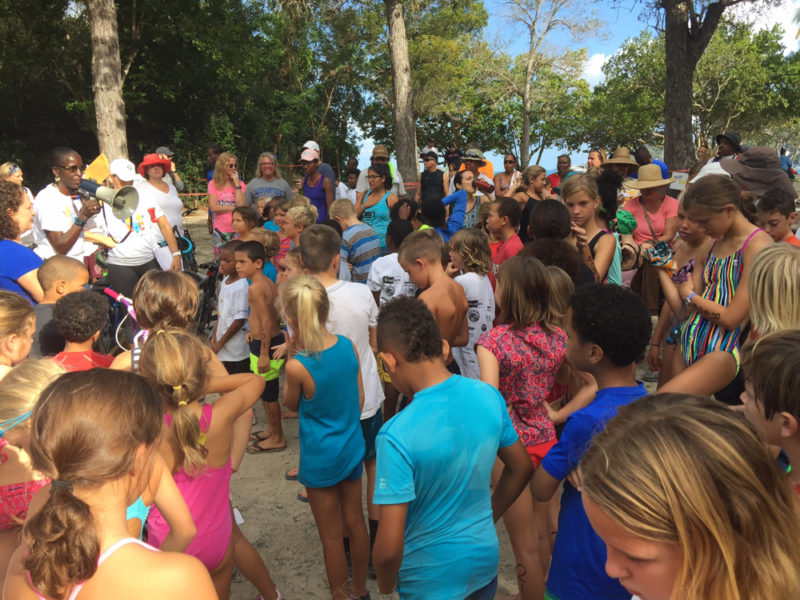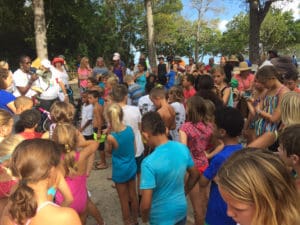 Adults who came out to watch and cheer on competitors in 2017 Rotary Sunrise Kids Triathlon said they do so because the event promotes healthy activity and children, unites the community, and raises money for worthy causes.
Held over the weekend at Magens Bay Beach on Saint Thomas, this year's Kids Tri brought out almost 130 participants, evenly split between the three age groups – five to eight years old, nine to 11, and 12 to 15 – representing all schools across St. Thomas. Parents across the board said the exposure to students from different school is one of the biggest benefits of the Kids Tri, along with the chance to "throw themselves into nature" instead of staying at home and watching television or playing on the computer.
During the event, competitors in the five to eight age group are asked to swim 25 yards, bike half a mile and run a quarter mile; in the 9 to 11 age group competitors swim 100 yards, bike a mile and run half a mile; and the older competitors, 12 to 15, have a 200-yard swim, a three-mile bike and a one-mile run.
Parents at Saturday's event said the Kids Tri gets very young athletes excited about sports, while training offered by the club beforehand gives them the confidence needed to finish each part of the course.
"This is the greatest event for kids," parents Paul Meyer and Allison Slimming said Saturday. "We love that students from all the different schools participate and that they have the chance to catch up and talk to one another before and during the event. Competition is great for kids, and make them excel outside and inside the classroom, but the (event) is mostly also about fun and our kids have fun every year. That's why we keep coming back and it's great that Rotary Sunrise stays so committed to making it happen."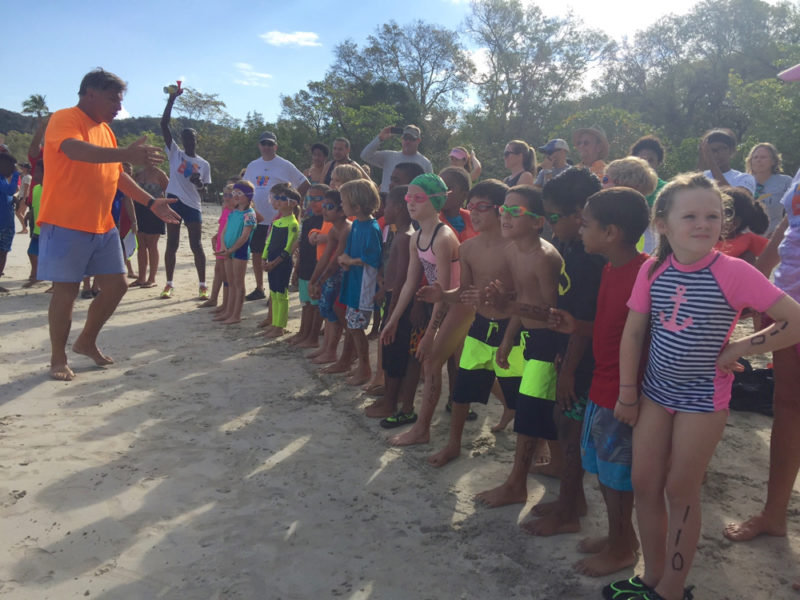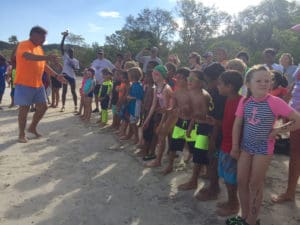 V.I. Montessori School and Peter Gruber International Academy had 37 students participating, taking home the prize for most participants. Antilles School was second with 34, followed by homeschooler, Charlotte Amalie High School and Addelita Cancryn Junior High, whose principal, Lisa Hassell-Forde stayed from the beginning of the event until the end and cheered loudly from the sidelines.
"Rotary is one of our biggest sponsors and supporters, they sponsor this year our water safety and swimming program for example, and so they also came to the school this year to see how we could participate in this," Hassell-Forde said. "And of course we did. We fielded several teams out on the course and we're proud to be here because this is such a great event, and the kids are ready to run, to bike and to swim."
While Hassell-Forde said that she was excited to watch her students participate, she said the event is so community-driven that her staff really comes out each year to cheer on all Virgin Islands children.
"It's a great opportunity for all schools to come together, it's a great way to promote health for our children and the event also allows us to use our resources. Magen's Bay is a great backdrop for an event like this, and we're happy to participate," she said.
The excitement of the parents and students is also matched each year by the enthusiasm shown by the volunteers and sponsors of the event. Coming back for another year as one of the silver sponsors of the event, Scotiabank marketing officer Christine Lee described the Kids Tri as the "premier event for young people on the island."
"We like to get into the community, into the grassroots, and just see where Scotiabank can help in the uplifting of children," Lee said. "So, it's only right and fitting that we've been out here every year. And, our team has gotten so wonderful at cheering on the runners, the bikers and swimmers. We like to set up every year right near the finish line so we can be there at the end helping get them across, and showing them that we're cheering them on. That's really my favorite part. It's great to have the children be out here at such a young age and we wholeheartedly support this event submission for promoting fitness and exposing them to nature."
"It's just a joy," said Sam Hughes, who had three children compete Saturday. "I love watching the kids push themselves athletically, academically and personally and it's just a joy watching them grow out there and being nearby to cheer them on and offer support. Even my emotions get a workout watching them go through it. It's just an amazing thing."
The Kids Tri is Rotary Sunrise's biggest fundraiser, supporting several of club's other efforts, including the new swim program for students at Cancryn, which also gives participants training in stand-up paddle boarding. Proceeds have also benefitted: Camp Shriver, St. Thomas Swimming Association, Jane E. Twitter Elementary and Seaview Adolescent Facility.
2017 Rotary Sunrise Kids Triathlon Info
127 Participants
Age Groups
5-8 – 46 Participants
9-11 – 41 Participants
12-15 – 40 Participants
12 schools participated in the 2017 Rotary Sunrise Kids Triathlon. The VI Montessori School and Peter Gruber International Academy won the school participation trophy for the most participants, with 37. Antilles School was second with 34. Homeschoolers brought 23 participants, 8 from Addelita Cancryn Junior High School and 8 from Charlotte Amalie High School. Other schools participating included Gladys Abraham Elementary School, Joseph Sibilly Elementary School, Ulla Muller Elementary School, Dober Elementary School, All Saints Cathedral School, Calvary Christian Academy and Ti'moun Daycare.
Winners
12-15
Boys
1st Place – Taber Helton, 25:52
2nd Place – Jay Fulford, 29.38
3rd Place – Camille King Iii, 36:14
Girls
1st Place – Kaia Anspacher, 27:54
2nd Place – Erin Hughes, 29:42
3rd Place – Shaiah David, 32:20,
Relay Teams
1st Place – Anapia Brunt, Aviela Maynard, Nickolas Swan, 25:51
2nd Place – Skyler Anspacher, Axel Bartsch, 26:14
3rd Place – Gabriella Brunt, Christian Belcher, Thomas Brunt, 27:13
9-11
Boys
1st Place – Shyne Hood, 13:01
2nd Place – Gabe Derksen, 13:02
3rd Place – FFlynHughes, 13:33
Girls
1st Place – Maia Tolus, 14:04
2nd Place – Flame Gonzalez, 14:24
3rd Place – Lilly Derksen, 13:02
Relay Teams
1st Place – Paul Magee, Bilal Muhammed, Veronica Lienenbach, 11:20
2nd Place – Mariana Brunt, Aurora Rodriquez, Sofie Kappel, 12:46
3rd Place – Lillian Clarke, Korey Woitylak, Liam Alterness, 13:19
5-8
Boys
1st Place – Sunny Gonzales, 7:01
2nd Place – Boarden Gonzales, 7:02:7
3rd Place – Lyle Ratchford, 7:52
Girls
1st Place – Fion Hughes, 7:06
2nd Place – Vivienne Cabarrao, 10:27
3rd Place – Jada Chase, 10:57
Relay Teams
1st Place – Charlie Gerritson, Willie Gerritson, Connor Shitko, 7:02:5
2nd Place – Coby Fagen, Harrison Oriol, Sanjiv Bachan, 7:39
3rd Place – Croix Nelthropp, Rohan Nelthropp, 8:18