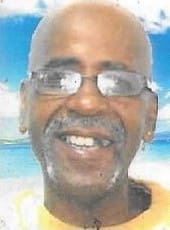 Joseph Breedy Jr., better known as "Yankee," died on March 14.
A viewing will be held at 9 a.m. followed by a funeral service at 10 a.m. on Monday, March 27, at Turnbull's Funeral Home. The deceased will be cremated.
He is survived by his daughters: Azana Lang Howell and Lakeisha Lavelie; sisters: Doris D. Chalswell and Marlene Carty; brothers: Arthur Breedy and Glen Breedy; aunt, Rita Breedy Pole; grandchildren: Amari Laville, Antoine Smith and Maya Cardon; nieces and nephews: Terrance, Tramille and Tiquan Carty, Akeel, Aaron, Andrea and Adrianne Breedy, Joey Breedy, Keyona Chalwell Aviles and Kaydene Chalwell Grant; sisters-in-law: Esther Breedy and Cindy Breedy; brothers-in-law: James Chalwell and Gaston Carty; many great nieces and great nephews; the Pole family, Carty family, Chalwell family and Breedy family.
Professional Funeral Services are entrusted to Turnbull's Funeral Home Telephone: (340) 779-6565; e-mail: turnbullsfuneralhomevi@yahoo.com