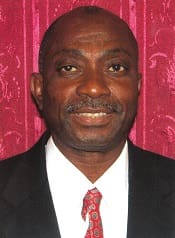 Cyril Brandtford Adams, better known as "Brandtford," died at his residence on Monday, on St. Thomas. March 6. He was 62 years old.
Brandtford is survived by his, wife, Patricia Adams; daughter, Briana Adams; sisters: Bernice Adams-Gumbs and Mavis Adams-Thomas; brothers: Larry, Elridge, Edwin and Ulric Adams; and aunts: Edna Hodge, Elaine Freeman, Mary Smith, Iris Thomas, Ivy Creque, May Rose Adams, Doreen Adams and Grethel Freeman.
He is also survived by uncles: Sidney Freeman, Mario and Orthlie Adams, and Samuel Hodge; sisters-in-law: Estelle, Rosalie, Sylvia and Donecia Adams, Jean and Rosalind Thomas and Shirley Hector; brothers-in-law: Noel Thomas, Cecil and Alec Hector, George Malone and Garfield Thomas; special sons: Elford Parsons, Gershwain Sprauve, Kyle and Arlen Seaton; adopted daughter, Carol Smith; and special cousins: Vickilyn "Candy" Brown, Dale Adams, Denise and Darryl Edwards, Sonia and Ariel Smith, and Robert Mathavious.
Other survivors include close friends: Alvin and Sezilee Callwood, Walton Smith, Bishop and Mrs. Charles Seaton, James and Diana Hedrington, James Julius, Norbert Hughes, Joyce Petersen, Genevieve Scatliffe, Muriel "Peggy" Smith, Malvin Dawson, Ambrose Byron, the Methodist Church in the Caribbean and the Americas, and his banking family.
Relatives and friends are invited to attend the celebration of life on Saturday, March 25, at Christ Church Methodist, Market Square. Viewing will begin at 8:30 a.m. and the service will follow at 10 a.m. Interment will be at Eastern Cemetery.
In lieu of flowers, please make donations to Brandtford Adams' Scholarship Fund, in care of P.O. Box 9526, St. Thomas, V.I. 00801
Arrangements are under the care of Hurley Funeral Home and Cremation Center of St. Thomas, St. John, St. Croix and Tortola.
For directions and online condolences, please visit us at www.hurleydavisfuneral home.com