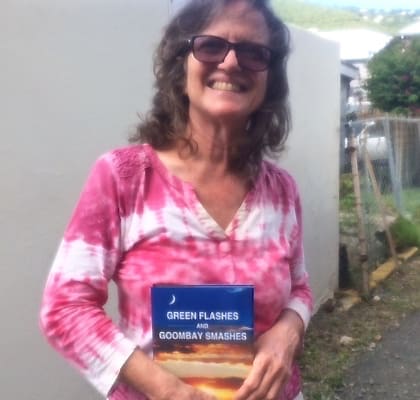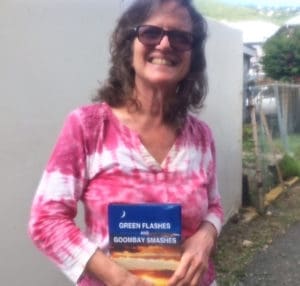 In late October of 2014, Cindy Shearer set out on a journey she approached with mixed emotions. She left her comfortable life on St. Thomas to be at her mother's bedside for the final weeks of her life.
Shearer's mother, Adele Scully, lived in Naples, Florida, where Shearer had just returned to St. Thomas from a distressing visit. Upon arriving home, she realized she had to return to Florida.
"I was distracted and increasingly consumed with her condition. We'd arranged for round -the-clock care, in her assisted living facility, but it wasn't enough," she said.
Shearer consulted with her family and it became clear she had to return to be with her mother, while relieving some of the financial strain. Her mother was suffering from a terminal illness, myelodysplastic (MDS) syndrome a blood disease that would eventually develop into leukemia.
Less than a week later, Shearer found herself back in Florida, where she took over night shift duties from the 24-hour aides who did the more detailed daytime duties.
What she could not have realized at the time, was that the journey would evolve into a book. "Green Flashes and Goombay Smashes, Life Death and Sunsets," is a record of Adele Scully's life, as seen from Shearer's eyes, a period she describes as "the most extraordinary month of my life."
"I was sending my three brothers – Scott, Lance and Kirk and their families – daily emails on mom's condition," he said. "I did it for myself, and for our family while logging her day-to-day life. Because those reports could be somewhat grim, I began interspersing them with anecdotes from her life "– a significant handful of memories, files she had maintained for most of her 90-year life – "a woman who was editor of her third-grade newspaper, and went on writing, editing for various publication and traveling while raising a family of four."
It is an intimate, sometimes painful, sometimes humorous account of a family's life at a time when they all are coming to grips with the death of their mother, a woman who could not be called a matriarch; she ruled with a gentle humor. It's an account touching in its honesty.
Adele was an avid newspaper reader and sometime columnist, but as she began to lose her grasp of current events, she asked, "Cindy, what is blog, what is bling and who is Bob SquarePants?"
This was before Shearer returned for her month's vigil.
Every day was spent with a mother, who became less and less conscious of who or where she was. She describes one day going to an art and craft fair, the kind of thing her mother had loved.
"I missed her so much I could barely breathe," Shearer said..
Shearer and Kevin Maddock moved to St. Thomas in 1986. Shearer worked as a paralegal, a profession she still holds. Maddock was a woodworker until, living on the water, he switched courses and became a boat captain, a profession in which he found great joy. Kevin died in 2012 after a long siege with cancer.
She muses on the view. "The first thing I had to learn after Kevin died was to run the dingy to St. Thomas," she remarked with a small smile.
Now a bit of family history.
Adele Scully had an abiding curiosity about everything around her that was to govern her life. She was married twice, first for 25 years to Don Shearer, with whom she had the four children, until his death in 1971. She subsequently married Jack Scully, an old friend, with whom she spent 37 years until his death in 2012.
Don Shearer worked for Colgate-Palmolive International, where he was assigned to a post in Australia. The four children at this time were 5, 7, 9 and 11, respectively. With hardly a second thought, Adele packed them all up for their adventure. In her notes she had written, "I thought travel would broaden their horizons. I didn't know anything about Australia, so I looked in the Encyclopedia Britannica where I found a photo of two Aborigines, skinny, scary. I wondered what I had done! It was too late to change my mind, I had persuaded my husband that moving our young family overseas was a brilliant idea."
As it turned out, it was very successful.
From Australia, they moved to Hong Kong, where Adele taught English to Chinese children on the rooftop of an eighth floor walk up, and on to the Philippines.
Her second husband, Jack Scully, worked for Pan American World Airways, and the globetrotting continued. Upon Scully's retirement her adventures continued on their yacht where they cruised the Pacific Northwest, Gulf of Mexico and the Caribbean, before settling in Naples.
Now, about those "Green Flashes and Goombay Smashes," which were a lively account of her adventures sailing with Scully, from which Shearer drew her anecdotal snippets to include in the day to day record.
Almost everyone who lives on the water in Southern climes knows about the elusive phenomenon of the green flash, which appears right as the sun sets, (about once in a blue moon).The Goombay Smashes were the drink to sip while waiting, which could be a very long time.
Adele and Jack Scully had moved to an assisted living facility in Naples after they gave up boat living, a three-room apartment which Adele promptly named the Mouse house and where she was living when Shearer took up her bedside vigil.
A typical day ran something like this. "Mom still thinks she is moving. She asks 'who is going to drive us?' The hospice nurses say this is normal when the end is near. She is not eating much. The file excavation continues. A real bonus – a list mom made earlier this year of her favorite things. They include: moons, convertibles, sunsets, cats and lobsters. Her not-so-favorite things include plaids and stripes together, showing bra straps and misplaced apostrophes."
However, the days worsened.
"Yesterday was tough, and if I truly want portray what's going on here, which was my initial reason for writing these updates – I must share with you the tough times as well as the laughs and memories."
"Poor mom. Her mind is going a million places at the same time, which exhausts her. Last night was awful. Mom had what I can only think to describe as a psychotic incident. I was shaken and I see little point in writing you about it. Fortunately, with the help of two nurses she calmed down and had the first of her new anti-anxiety medicine."
Adele Scully was moved to Hospice House for her final few days when her discomfort became too much to handle at the Mouse House. At the Hospice she would be evaluated and her meds increased as needed with round-the-clock care.
The nurse told Shearer, "now you can be the daughter and let others be the nurse."
It turned out Adele Scully had smiled her last smile on Thanksgiving day. She died three days later.
Somber for a moment, Shearer said."I would never exchange that experience for anything. I felt honored to do it."
That being said, she added, "There is much to be done on end-of-life issues. We had discussed this with mom two years earlier when her late husband Jack was living through his last days. If she could have done so, I believe she would have taken her own life; she admitted as much. She had always played by the rules and fully embraced life, and I am sure that it violated every fiber of her being to contemplate such an ending. However, she was distraught by her inability to participate in life on a meaningful level, and aghast at the thought that she was a burden."
"Thankfully," Shearer said "because of her terminal diagnosis, Mom was able to take some control over her death with hospice care, Shearer said. Without that, she would have continued to endure an ever-declining quality of life.
"I always remember what Kevin said: 'Life is to be enjoyed, not endured.'"
As for the end of life issues, Shearer said. "My brother Lance remarked when Jack was dying, 'we treat animals better than our people when it comes to the end. As tough as euthanizing our pets can be, it is clearly the humane and compassionate thing to do when their quality of life is gone and they are suffering.'"
In her dedication to her mother, Shearer says "With hope that in some small way I have honored your last wish, by keeping alive the important dialog surrounding end of life issues."
Shearer discovered there is abundant information at several organizations' website, including https://www.compassionandchoices.org, deathwithdignity.org and hospiceactionnetwork.org.
Shearer's book is available on Amazon, or by requesting from Shearer at csshearer@ yahoo.com.