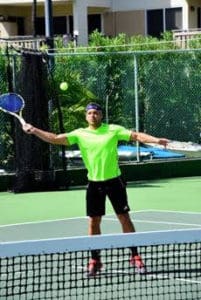 Puerto Rico's Alex Llompart made an impressive comeback after a two-year hiatus from tennis by winning the highly-competitive Men's Open Singles at the Innovative-Choice Wireless V.I. Open Tennis Tournament. The St. Thomas Yacht Club hosted the event Feb. 27 through March 5. Fifty-five players from the U.S. Virgin Islands, Puerto Rico, St. Kitts and the U.S. Mainland states of Colorado, Connecticut, Florida and Texas, competed. Players included professionals as well as a strong contingent of amateur or B division participants.
"My goal was to keep the ball deep and serve well, and I accomplished that," said Llompart, who beat fellow islander Alejandro Rodriguez-Vidal, (6-7) (6-0) (6-2). Llompart brought a lot of experience to his comeback. In the past, he was ranked in the top 100 in singles as a junior and in the top 200 as a professional in doubles. He was also the number two ranked college player nationally while attending Pepperdine University in Malibu, Calif.
In Men's Open Doubles, Chris Haggard of Bee Cave, Texas, and partner Edward Boone of Austin, Texas, triumphed over Puerto Rico's Gabriel Mantilla and Alejandro Rodriguez-Vidal (7-5) (7-6).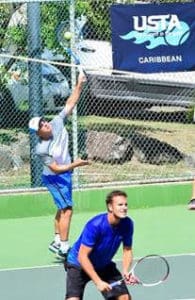 "Our strategy was to play the big points well. Plus, I think we played well as a team when we were down. It was a very close match; it could have gone either way," said Haggard, who after turning pro in 1993 won six ATP Tour titles, finished runner-up an additional dozen times on the Tour while playing against the likes of other top professionals like Boris Becker, and achieved a career high doubles ranking of 19 in 2003.
In the B division, Anthony Caines of St. Thomas and Paul Trotman of St. Kitts won the best of three round-robin (2-0) against Jerry Head and Brandon Owens, both of Austin, Texas; Mike Lammens of Denver, Col. and William Newbold of St. Thomas in Men's Doubles (8.0 combined).
"Super happy" is the way both St. Thomas' Joyce Bailey and Denise Holmberg described their win in the Women's Doubles (8.0 combined) against Jennifer Coffindaffer of St. Augustine, Fla., and Ann Roberts, from Southlake, Texas. The V.I. players were seeded second to the visitors.
Fellow St. Thomas players, Morgan Avery and Osa Notting, bested St. Thomas' Eve Matthews and Head in the Mixed Doubles (8.0 combined), with a score of (4-6) (7-5) (7-6(3)) that included a tie-breaker.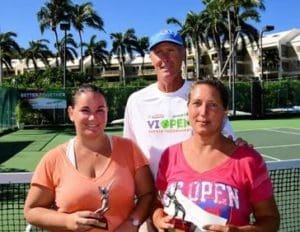 St. Thomas' Rene Migdal and Natalie Lo beat St. Thomas' Cindy Asfour and Carol Baker-Robinson ((7-5) (6-2) in Women's Doubles (6.0 combined).
In Men's Singles (4.0 and under), St. Kitts' Trotman beat Texas' Owens (6-0) (6-0).
The contest was close in Women's Singles (4.0 and under), yet St. Thomas's Kerri Clifford won over fellow islander Megan Richardson (6-2) (6-3).
"I didn't have a strategy; I just played," said Clifford. "It was a good match up, and I remembered Megan as a good junior player. In fact, she was able to get my backhand drop slice when many other in previous matches couldn't."
Migdal also won the Women's Singles (3.0 and under) division over St. Thomas's Sandy Gregory (6-1) (6-2).
"This is the first time I've played in this tournament and I love it," said Migdal. "I've only been playing for about six weeks, but I used to play squash. Going into this, I thought if I could run the 8 Tuff Miles road race last weekend on St. John, I surely had the endurance and to be able to move around well on the court."
Finally, in Men's Doubles 60-plus years of age, it was the duo of Lammens and Newbold that prevailed over St. Thomas's Ronald George and Rick Hunter (6-0) (6-1).
Over $10,000 in prize money was awarded in addition to trophies.Matches were officiated by USTA-certified referee Cesar Febus from Puerto Rico. The Open Tennis Tournament is the only tournament in the U.S. Virgin Islands sanctioned by the USTA's Caribbean District.
The Innovative-Choice Wireless VI Open Tennis Tournament is sponsored by Innovative, Choice Wireless, the U.S. Virgin Islands Department of Tourism, Capitol Air, Sugar Bay Resort & Spa, the STYC and USTA Caribbean.
For more information, e-mail: styctennis@gmail.com