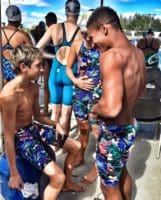 Twelve St. Thomas Stingray swimmers traveled to Florida to compete in the Sectional Qualifying Swim Meet in the Plantation Aquatic Complex on Feb. 10-12.
Mary Killman lead the swim team with one first place win in the 50-meter backstroke and two second place finishes; Audrey Moore set three new Virgin Islands 11-12-year-old age group records; Ky Odlum set a new V.I. record in the 13-14-year-old boys butterfly event.
All 12 swimmers had excellent swims, and the majority swam their best times. The swimmers were: Lindsay Barr, Gabriela Brunt, Leila Habib, Erin Hughes, Mary Killman, Carter Maltby, Fairley Maltby, Audrey Moore, Kyra Odlum, Ky Odlum, Sean Hughes and Max Wilson.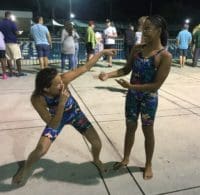 The next swim meet for the Stingrays will be the V.I. Championship set for March 11-12 on St. Croix.
The St. Thomas Swimming Association (STSA) is a non-profit 501©3 organization committed to providing and promoting competitive and recreational swimming and water safety programs to its members and all members of the community.
For a schedule of swimming classes, rates and team membership, call the STSA at 779-7872.