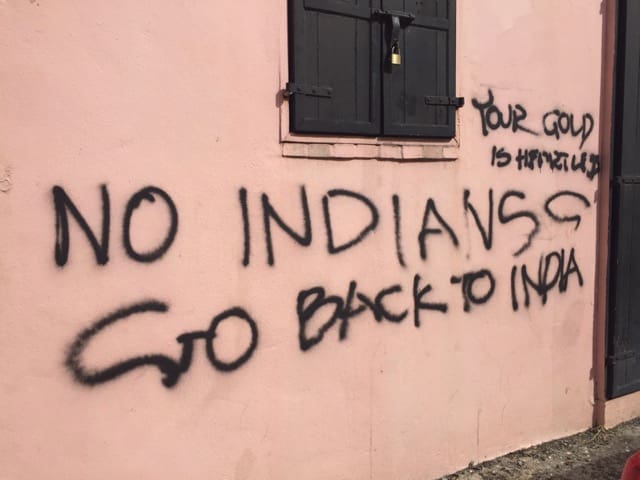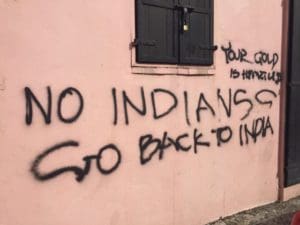 Just behind and parallel to St. Thomas's Main Street where millions of tourists have trod for a century lured by luxury and bargains and contributing massively to the territory's economy, the stores' blank rear ends face a narrow roadway known as Back Street.
People leaving work Tuesday afternoon were shocked to see ethnic-directed hate graffiti spread across the normally unremarkable but historic painted brick wall.
"I drove by just to see if it was true," said Pash Daswani, owner of Lucky Jewelers. "I was outraged" said Daswani, who is serving as interim president of the India Association after the recent death of long-time community supporter and association president Mulo Alwani.
Daswani said, "We are embedded in this community. I was shocked to see this kind of hate crime towards us."
Word spread across social media about the defacement that called upon Indians to "go home to India."
Scott Bradley, founder of nonprofit organization My Brother's Workshop, said Tuesday night, "I am appalled and angered."
Bradley said, "I stand in support of the Indian community and I am sincerely thankful for all their hard work and generosity." My Brother's Workshop is one of the many charitable organizations supported by the India Association.
Bradley's organization opened a coffee shop that helps provide jobs for young people and revenue for MBW a few years ago just a block from where the graffiti appeared.
The St. Thomas-St.John Chamber of Commerce Board of Directors also expressed outrage in a statement Tuesday night at the grafitti "expressing hateful sentiments directed toward the community's East Indian population. "These words have no place in the Virgin Islands," said board president Sebastiano Paiewonsky-Cassinelli.
"The territory has always welcomed people from around the world and was built on the hard work of individuals from Africa, Asia, Europe, South and Central America, among others," Paiewonsky-Cassinelli said.
Calling it a hate crime, Paiewonsky-Cassinelli challenged law enforcement to find the perpetrators and prosecute them under the federal hate crime law.
Since the election of Donald Trump as president, bigoted outbursts have popped up across the United States, in particular against Muslims.
The territory has long been an ethnically, racially mixed culture home to people from across the globe.
Jewish, Muslim and Christian community members came together last Friday in solidarity to publicly denounce Trump's executive order banning refugees from seven Muslim-majority nations from entering the United States. As of publication, the order has been trounced.
Not since 9-11 when a few xenophobic signs appeared around the islands telling the Arab community members to "go home" has St. Thomas seen such an open display of ill-advised hatred against a particular group of community members.
"We are one population," Paiewonsky-Cassinelli said in his release, adding the Indian community was a part of that diverse community.
The graffiti says, "no Indians, Go back to India." It then mentions gold – assumably in reference to the several Indian-owned jewelry stores on St. Thomas – and then trails off into a jumble of unintelligible intertwined black spray painted meaningly characters.
As of press time, no statements had been issued by police officials or Gov. Kenneth Mapp.