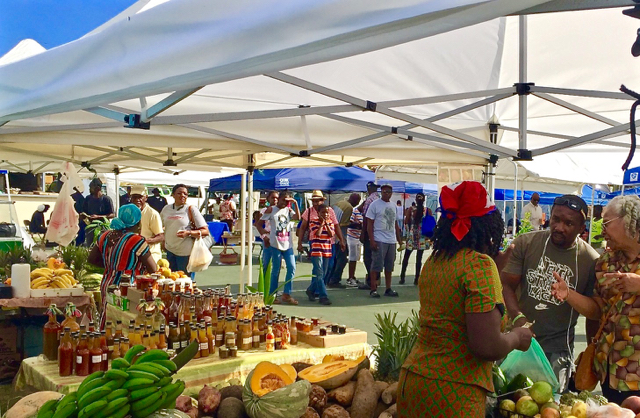 On Saturday afternoon the Smith Bay ball field was transformed into a lively marketplace with community members and tourists turning out to shop at the vendor stalls and take part in the festivities.
With local prepared foods, fruits, vegetables, juices, arts and crafts all on sale, as well as a number of kid-friendly activities and dancing to participate in, the inaugural Smith Bay Agriculture Fair drew more 200 people throughout the day.
Bruce Flamon and Jacquelyn Deport organized the event on behalf of the Smith Bay Association, of which both are members. For Deport, organizing the event was about helping strengthen her community by volunteering her time.
Flamon said more than 20 vendors took part in the fair.
"We tried to make it a really nice event and asked all of the vendors to wear local dress – we wanted that island flavor," said Flamon.
Flamon said the Smith Bay Association asked its members to come up with a revenue-producing idea. With the majority of the island's hotels being located on the East End and there being many tourists who regularly drive through the area, Flamon thought holding an agriculture fair could get visitors to stop.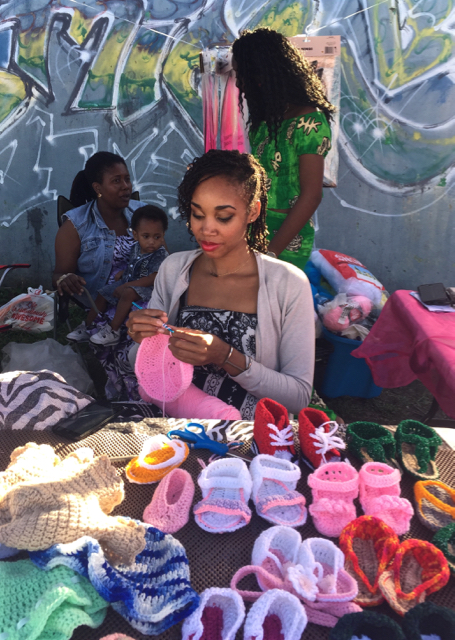 According to Charles Leonard, a seasoned farmer who had a booth at the fair, a number of tourists and local residents purchased his produce, hot sauce and honey.
Attendees took notice of the clean, manicured ball field, which until recently was in bad need of maintenance according V.I. Police Department Zone C Commander Lt. Sandra Colbourne, who handles the East End.
As children played soccer on the freshly cut field behind the market, Colbourne explained that she is working to clean up parks and other recreational areas in her zone in order to give youth a safe place to cultivate their athletic skills.
"In March we'll be painting the walls of the basketball court with pictures of professional athletes from the Virgin Islands, so that the kids know that if others can achieve that level, they can too," Colbourne said.
With a responsibility to build a bridge between the police department and the community, Colbourne said she is working with businesses, residents, politicians and social workers to get everyone on the same page with upcoming community-building initiatives.
Echoing other vendors' sentiments regarding the success of the event, Ariel Millin said she sold a number of her crochet clothing items, including meticulously crafted baby booties and sandals. Millin said she's grateful for the connection she made with the community at the fair and is thankful for the work the Smith Bay Organization is doing to help bring people closer.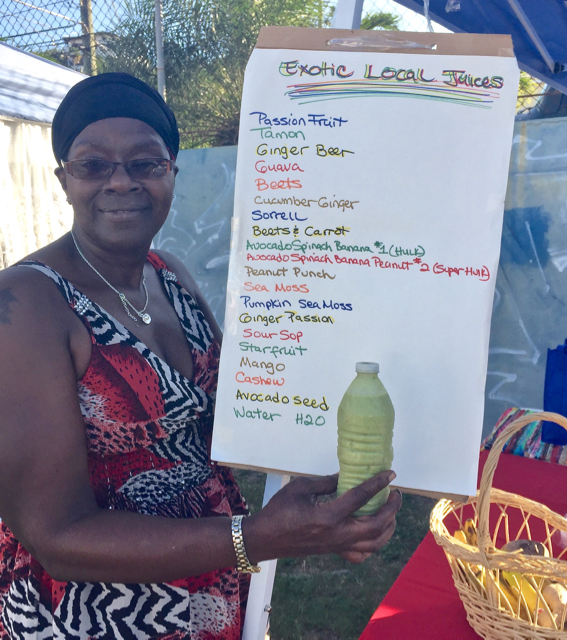 Known as the "Juice Lady," vendor Rehenia Fraser-Phillip said she's been making homemade juices with all local ingredients for the last couple years. Her number one seller is called "The Hulk," a mixture of spinach, avocado, banana, flaxseed, chia seed and almond.
The Department of Tourism and the V.I. Water and Power Authority also had booths setup that were distributing information, along with reusable grocery bags that will come in handy when the new plastic bag ban comes into full effect.
Flamon thanked DJ X for volunteering his time, as well as Sen. Marvin Blyden for donating a tent and a table for the event. He also expressed gratitude to Gail Schaefer, who won the fair's 50/50 raffle and then donated all the money back to the Smith Bay Association.
"This is the way we fight crime," Flamon said. "We get kids involved in positive things and organize community events."
Flamon said Smith Bay's next agriculture fair will take place this coming Memorial Day weekend.