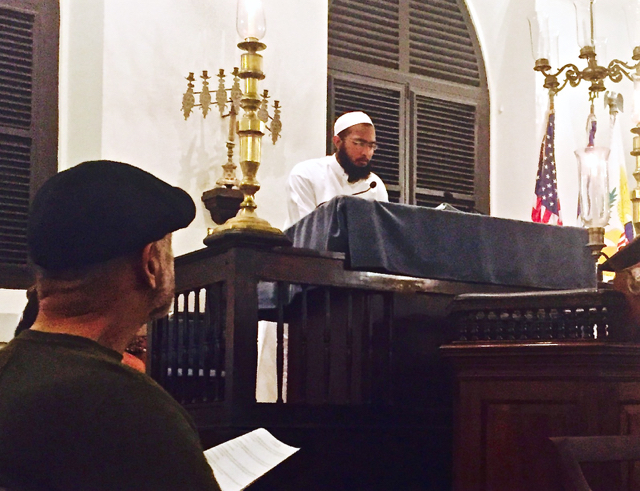 Muslims, Christians, Jews and other members of the St. Thomas community joined together in solidarity Friday evening to denounce U.S. President Donald Trump's executive order on immigration and refugees from seven majority-Muslim nations.
Coming together during a weekly service at the Hebrew Congregation of St. Thomas, the "Shabbat of Solidarity" drew more than 60 people from different faith communities and featured talks from prominent faith and political leaders in the territory.
On Friday evening following the service, a federal judge's ruling temporarily lifted the ban, stating that the Washington state and Minnesota lawsuits against the ban will likely succeed. Homeland Security officials were told to comply with the ruling, sparking displeasure from Trump, who took to Twitter to air his frustration.
Earlier in the day, another interfaith event was held at the Nur Islamic Center of St. Thomas, with speakers from different faiths calling for unity sharing their thoughts on the recent executive order. Rabbi Mike Harvey of the Hebrew Congregation of St. Thomas said that about 75 people were in attendance.
A flier for the Shabbat service referenced the Holocaust, a genocide that resulted in the state-sponsored killing of six million Jews.
"Years ago the United States closed its border to Jewish immigrants and refugees due to fear, propaganda, and prejudice. Today as we watch history repeat itself, the United States has closed its borders to Muslim immigrants and refugees," the flier said.
Imam Abubakar Mohammed, imam of Masjid Hur Ahl-Us Sunnah at the Nur Islamic Center of St. Thomas, said that during divisive times like this humanity should be trying to come together.
"The only thing that should truly differentiate us is our piety and good action," Mohammed told attendees.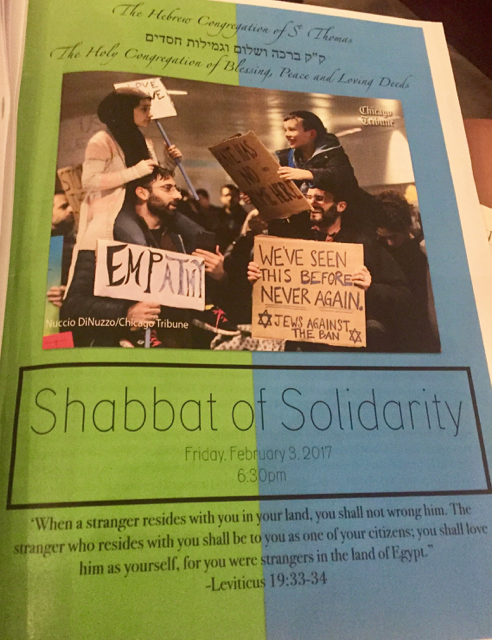 Since moving to St. Thomas eight months ago, Mohammed said he has fielded numerous questions that were prompted by the community's curiosity about the traditional Muslim dress he wears. He's been asked if he's radicalized and part of ISIS by more than one person.
"This shows me how much work we had to do to show the community what we as a religion stand for, that we stand for peace," Mohammed said.
Speaking on behalf of Delegate to Congress Stacey Plaskett, Cletis Clendinen said the executive order was a rushed blanket ban on immigration that was poorly planned and executed, noting that none of the perpetrators of the 9/11 attack on the U.S. were from any of the seven countries affected by the ban.
"This refugee ban will not make us safe," Clendinen said. "What this shows me [Plaskett] is that this ban is based on fear," adding that the ban could become a recruiting tool for ISIS.
Clendinen said Plaskett has pledged to fight against the ban and to work for stronger gun safety laws to keep people safer. Seeing people of all races, religions and backgrounds protesting together has been a silver lining for Plaskett, he said.
Recalling an event that has stayed with her since childhood, Melissa Rogati, area director of Young Life St. Thomas, said the KKK held a rally in her southern hometown when she was growing up. What stood out the most to her about that memory is that not one of the local Christian faith leaders publicly denounced the rally, though they may not have been in support of it personaly.
"Hate is cancer, fear is cancer, silence in the face of hate is cancer," Rogati said.
As the service came to a close, attendees sang Woody Guthrie's "This Land Is Your Land," in unison, joining hands and sharing hugs to show their support of one another.
The refugee ban strikes a cord with the local Jewish community, Harvey said. During the Holocaust, the Virgin Islands pleaded to take Jewish refugees in but the U.S. government wouldn't allow it. Many of those seeking safe refuge perished. The Union for Reform Judaism's full statement denouncing the ban is online at rac.org.