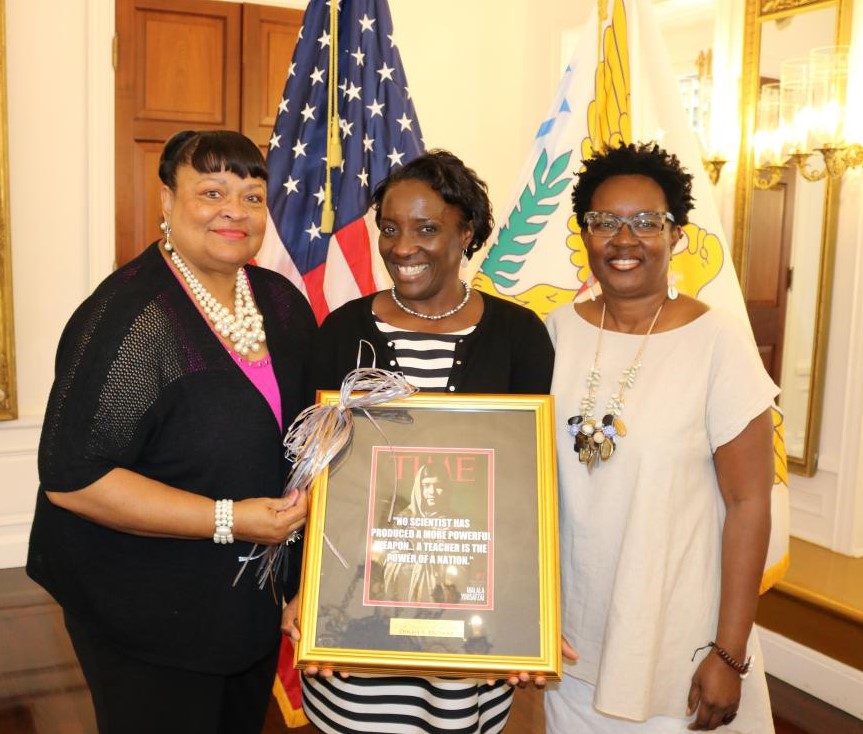 The Virgin Islands Department of Education honored its 2017 VI State Teacher of the Year, Dinah Browne, a St. Croix Central High School English teacher, at a special ceremony held Friday, Jan. 27, at Government House on St. Croix.
The mid-morning affair was attended by Gov. Kenneth E. Mapp, who praised Browne and the territory's educators for their commitment to students and the profession of teaching. Congresswoman Stacey E. Plaskett congratulated the honoree and lauded the tireless work of teachers, acknowledging the dedication that goes into educating and nurturing students.
Education Commissioner Sharon Ann McCollum, Ph.D., offered an inspirational message to Browne, stating, in part, "Teaching is a ministry. Go forth and be a light in our students' lives." The commissioner presented an enlarged, framed copy of the 2012 Time Magazine cover featuring Pakistani activist Malala Yousafzai, with Malala's notable quote: "No scientist has produced a more powerful weapon…a teacher is the power of a nation."
During her remarks, Browne accepted the State Teacher role on behalf of the territory's teachers and offered heartfelt thanks.
"Although I stand before you as the teacher selected, we are here today to ultimately honor teachers because the ultimate organization for social change is the school, and the greatest instrument of change is the teacher," she said. "Schools and teachers have always been the spark for human progress because knowledge and learning have created the world in which we live.
Teachers will touch the lives of multiple generations. Long after my students have left my classroom, I know that I will continue to impact the lives of their brothers and sisters, and of their children and grandchildren. Note well that when one elects to become a teacher, one also elects to become a nurturer and a molder and shaper of our present and our future," said Browne.
Following her remarks, Browne was showered with gifts and words of appreciation from guests. She is expected to attend an induction ceremony for the nation's state teachers in Dallas, Texas, in February, as well as a week-long celebration in Washington, D.C., during Teacher Week in May.