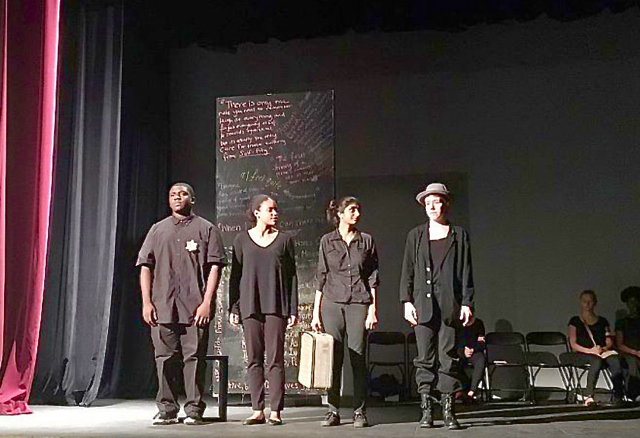 Get ready for a grand production at Antilles School. About 70 middle and upper school students are working together to present "Seussical the Musical," the Broadway song-and-dance tip of the hat to the Dr. Seuss books.
About half of the students will be on stage and about half working tech. There will also be a few in the orchestra pit. Some teachers will be involved, and professional musicians from the St. Thomas community will also perform. Plans call for inviting elementary students from other schools to special shows and performing for the public at large.
Megan Elliot, the theater teacher, and Marva Bennett, head of the Middle and Upper Schools Divisions, said it seemed time for a musical, since the school has been expanding its music programs.
Seussical is scheduled to run March 3, 4 and 5. It's one of three full-fledged productions at Antilles this school year.
Upper School students already presented two one-act plays last fall, "And Then They Came for Me – remembering Anne Frank" and "I Never Saw Another Butterfly."
In May it will be the Middle School's turn. Elliot said she's still working out permission for the rights of the play so did not name it, but described it as a one-act comedy based on fairy tales.
"We did a drama last year," Elliot said. "I like to alternate to give our students the variety of experience."
While three productions a year may seem ambitious, that's only half the story.
"The arts at Antilles is a very important part of what we do," Bennett said.
Both visual and performing arts are integrated into the curriculum, and also are offered via extracurricular activities. The theater program has been growing for several years, with some of the impetus coming from the presence of Prior-Jolleck Hall, a venue the school frequently shares with community groups.
As early as sixth grade, students can join the Drama Club for fun and enrichment. Students in grades seven through ten take a quarter of classes in theater.
Younger students are exposed to theater when older students perform for them, or, sometimes, more actively. For instance, elementary students made butterflies for the play "I Never Saw Another Butterfly."
Last week Antilles celebrated "Theater in Our Schools Week" with activities designed to encourage students to get involved either on stage or behind the scenes.
The week also saw the induction of 14 students into the International Thespian Honor Society, Elliott said. Antilles is the only school on St. Thomas with students in the society. Its first group – of 21 – were inducted last year.
Students must gain a sufficient number of points, based primarily on hours of participation in theater productions, to be eligible members. According to the society's website, 100 hours is a minimum.
Students can begin accumulating points in the eighth grade, Elliot said.
A hundred hours sound like a lot, but she and Bennett noted that being in a cast or crew for even one production builds up a lot of hours.
"We have high standards," Elliot said. "It takes time and energy – and you're coming in on weekends … It takes a lot of time, if you're going to do it correctly."
Students can count time spent in related activities too, the women said. For instance, some students attend summer camps with theater programs. Some provide tech services for community groups using Antilles' theater and for the PTA. Some participate in programs at the Pistarckle Theater or other local drama groups. It all adds up.
And, as director of the program, Elliot has some discretion in recommending students for the honor society.
"It's not just the points," she said. "They have to be dedicated."
Thespian honor students take the following pledge:
"I promise to uphold the aims and ideals of the International Thespian Society. I am a student of theater and excellence is my ideal. I promise to perform my part, as well as I can; to accept praised and criticism with grace; to cooperate with my fellow Thespians and work for the good of the troupe; and to share my love of theater."