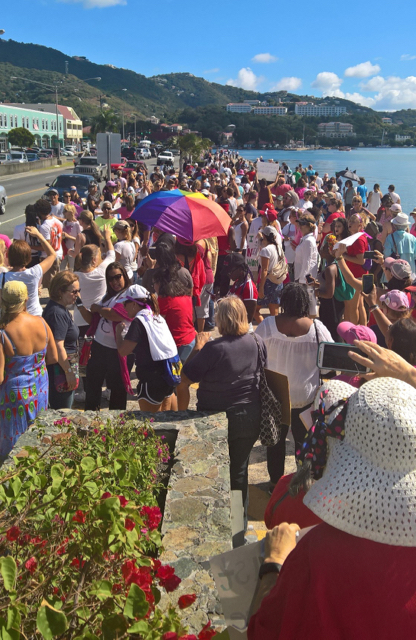 More than 300 demonstrators marched along the Charlotte Amalie waterfront on Saturday morning in solidarity with the Women's March on Washington that was held in the nation's capital.
Standing up for human rights, including those for women, minorities, people with disabilities and people who identify as lesbian, gay, bisexual, transsexual, queer, intersex and asexual (LGBTQIA,) the protestors carried signs and chanted for equality as they walked from Havensight along the waterfront toward Frenchtown.
With protests taking place on all three islands, demonstrators throughout the Virgin Islands today joined more than 2.5 million women around the world in 670 locations, deliberately marching the day after President Trump's inauguration.
According to the official event organizer's website, "In the spirit of democracy, together, we will send a message to our leaders, our new government on their first day in office, and the world that the United States of America stands for values of human decency, equal rights and freedom from discrimination – recognizing that defending the most marginalized among us is defending all of us."
St. Thomas resident Rubina Wade said she was marching primarily because she believes in female empowerment.
"I support diversity and women's, LGBT and human rights. Being a part of this march is uplifting to the spirit – I'm standing up for what I believe in," Wade said.
As the women, men and children marched they chanted: "Love trumps hate," "Women's rights are human rights and human rights are women's rights."
Desiree Wilkes led many of the chants that energized those around her.
"I'm fighting for the equity of women for the future, the past and the now," Wilkes said. "But I'm also standing up for the rights of any marginalized groups and for anyone that is silenced."
Many of the marchers were also demonstrating to raise concern about President Trump's denial of climate change issues. The new administration has already scrubbed the White House website of any information on climate past initiatives.
Renata Platenberg, a wildlife biologist in the territory, said, "I am deeply concerned about rolling back the progress on environmental protection and human rights protection that we've achieved in recent years."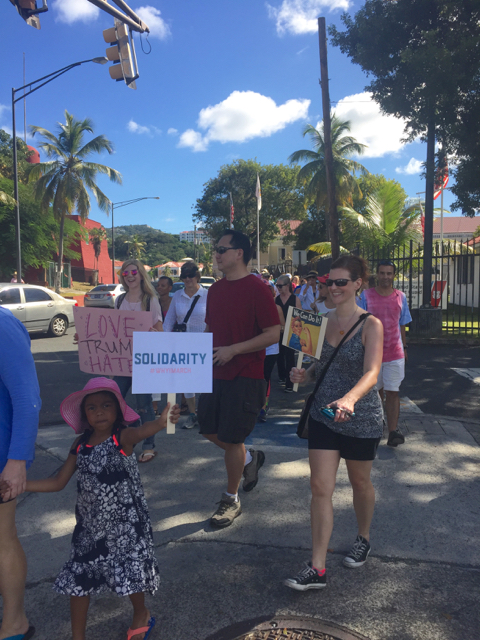 Platenberg continued, "I feel there's a lack of understanding about things like climate change and if we don't start doing something about it now, the consequences will be dire."
While the majority of marchers were women, a number of men marched alongside and in unity with their wives, mothers, daughters and friends.
"I'm marching to raise awareness for female and human rights on a local level," Jeff Konecny, a St. Thomas resident, said.
Some of demonstrators were visitors to the territory who were inspired enough by the cause to take time out of their vacation to march.
Colleen Dolan from San Francisco marched to honor her late daughter, Chelsea Faith Dolan, who passed away in a warehouse fire in Oakland in early December 2016. Dolan's daughter was an electronic music DJ who worked to open the genre to more female performers.
"Chelsea would love that I'm here doing this. If she were still with us she'd be marching in San Francisco to help bring more equity into the world, especially for young women."
Demonstrators like Patria Alexander said she marched to bring more positivity into the community after being let down by the results of the 2016 election. For her, it was about uniting with others who want to be a force of good in the world.
"It's great to be around people who feel the same way and share the same hope and to know that there is growing positivity out there," Alexander said.
After the demonstrators walked the length of the waterfront, they gathered in Emancipation Garden to hear from a number of community leaders, who shared messages of hope and encouraged everyone to not give up the fight for equality.
St. Thomas resident Barrie Olson Harvey, who helped organize the event along with Nia Hazell and Sarah Haynes, said the march was put together in just five days after a few women on St. Thomas learned that marches would take place on the other islands in the territory.
While speaking to the crowd, Olson said, "Your injustice is our injustice and from where I stand I see a whole lot of injustice. This march will keep us accountable to one another."
Speakers included Dr. Vincentia Paul, Camilla Francis, Melissa Rogatti, Carrol Callwood, Senator Janette Millen Young and Dara Monifah Cooper, as well as U.S. Representative Stacey Plaskett, who prepared remarks read by Cletis Clendinen.