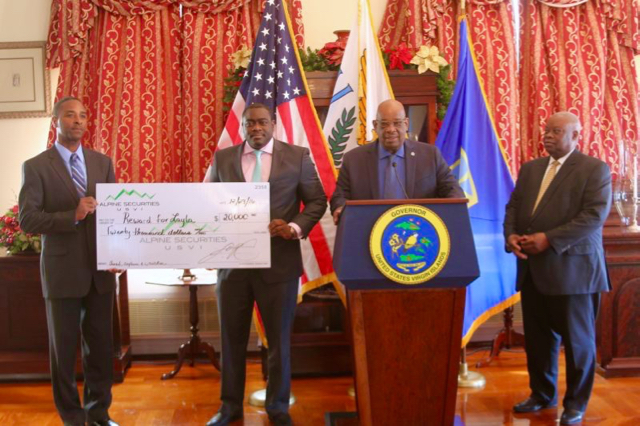 With two $5,000 donations from anonymous donors in the community, along with a $20,000 match from Alpine Securities, the reward has doubled for the capture and conviction of the person responsible for the Dec. 14 murder of 17-month-old Layla Paulino.
After the toddler's death was announced earlier this month, Gov. Kenneth Mapp announced at a press conference that he was authorizing a $10,000 reward for any information leading to the conviction of the killer. Since then, two more $5,000 rewards were offered, bringing the total to $20,000, and on Thursday, Alpine's Chief of External Affairs Jason Charles said the company felt obligated to match the amount and help bring the case to a close.
Police have said the 17 month-old was traveling home with her parents around 9:44 p.m. Dec. 14 when their vehicle was shot up. The girl, who was being held by her mother, was struck in the chest and died at Schneider Regional Medical Center, while the male driver of the car, her stepfather, was treated for a gunshot wound to the thigh.
"This is not in law enforcement issue. This is an 'us' issue," Charles said Thursday at a press conference on St. Thomas. "This is our community and when our society has gone to killing children, our society is broken and every individual in this community needs to step up and say something to the police."
Challenging others in the business community to step up and make a match of their own, Charles added that the reward was not only being made in the spirit of capturing Paulino's killer, but the killer of other young people – 20-year-old Bria Evans, who was killed near a St. Thomas nightclub in August – that have been murdered this year.
Asked Thursday for updates on the Paulino case, V.I. Police Commissioner Delroy Richards said officers have been "working around the clock" to follow up on any credible information provided. There has been an increase in tips coming in since the initial $10,000 reward was announced and Mapp, who was also at Thursday's press conference, said that any family or friends of the person responsible for the toddler's death should start to see the perpetrator as a "$40,000 check" that they could cash in on.
"Each time you look at that person, I want you to look at them, to think of them, as a $40,000 check," the governor said. Mapp added that anyone calling in with information doesn't have to give their name.
"You can remain anonymous," he said. "just know that any information that leads to the arrest, you will receive this payday. If you know who's responsible, it's a $40,000 check in your hands."