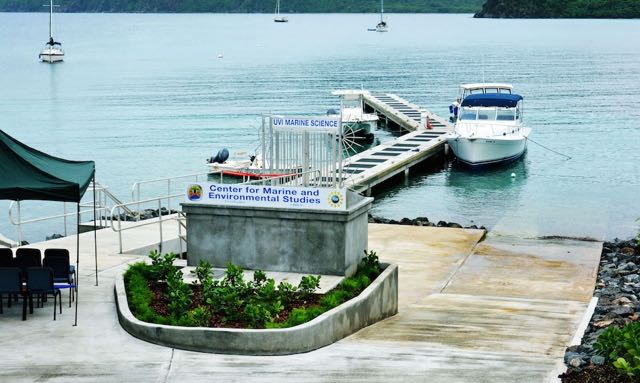 The University of the Virgin Islands unveiled a new dock at the MacLean Marine Science Center overlooking Brewers Bay on the St. Thomas campus Friday. The new dock will greatly increase the university's Center for Marine and Environmental Studies ability to do marine research safely, according to UVI.
"The old dock was literally held together with straps because none of the wood was in good enough shape to hold a screw," said CMES Director Paul Jobsis, an associate professor of marine biology at UVI.
"We can now easily remove boats from the water for storms or simple servicing. We can dock larger boats with greater capabilities for near shore and offshore research. And no stairs means that we can use carts to move heavy equipment. This is a big step forward for UVI and marine science research," he said in a statement.
UVI President David Hall said the new dock could be viewed not only as a significant physical development but also as an expression of continuity, expansion and transformation.
"The new dock is measurably larger and stronger than the one we had before but it is also symbolic of the various ways in which the CMES has grown along with the reach of the university as a whole," Hall said.
"This is a chance for one of our strongest departments to move toward an even higher level of scholarship through expanded research opportunities. Its existence will help transform the university by stimulating our collective energies," he said.
The new concrete dock is 170 feet long, roughly 90 feet longer than the last dock, which was built in 1997 after Hurricane Marilyn. The new dock has space for eight boats with an end depth of 12 feet.
The new dock will greatly increase the amount and size of UVI's boat operations and is much safer, according to the university.
"Our research will flourish with this newfound ability to accommodate an oceanographic vessel appropriate for expanded scientific research and diving," Jobsis said.
Funding for the new dock came from two separate National Science Foundation grants. The majority of the funds came from the current grant, NSF award Mare Nostrum Caribbean: Stewardship through Strategic Research and Workforce Development. The work cost just over $1 million, which covered the dock, boat ramp, roadwork, shed and landscaping.
Ten years in the making, the new dock project was a team effort that involved many contributions by members of the UVI community and the Virgin Islands community at large. Capping off the donor efforts was the recent anonymous gift of a 34-foot powerboat, which was on display beside the new dock throughout the opening ceremony. This vessel will be used primarily for research and undergraduate diving courses.