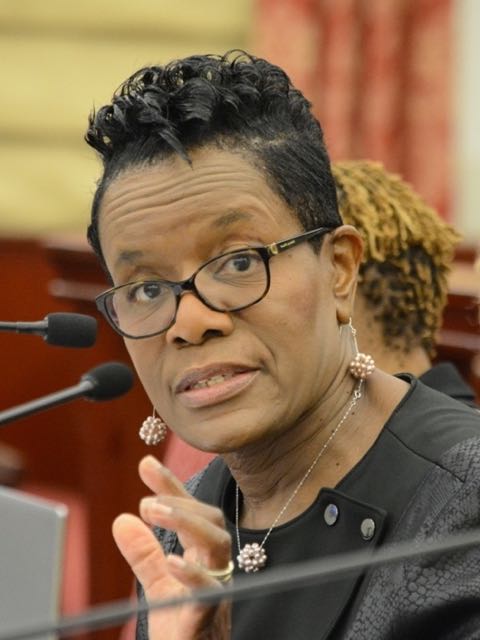 Credit unions will have to be federally chartered and insured to operate in the territory if a bill approved in committee Thursday is enacted into law. The measure was one of half a dozen bills approved Thursday aimed at bringing regulation of insurance and of financial entities more in line with laws in most other U.S. jurisdictions.
The bill [Bill 31-0369] sponsored by Sen. Clifford Graham would require any credit union in the territory be federally chartered and regulated by the National Credit Union Administration and insured by the National Credit Union Shares Insurance Fund.
The change was partly motivated by a fraud scandal over St. Thomas-based Her Majesty's Credit Union.
In 2014, U.S. District Court entered summary judgment of more than $1 million against Stanley McDuffie, one of the creators of HMCU, over charges of defrauding clients, conspiracy and racketeering.
The credit union had an office in Denver and its creators reside in Aurora, Colo. The company first came under scrutiny by Colorado state regulators, who issued subpoenas seeking information in 2010.
The company refused to comply and the officers refused to appear in court. As a result, a Colorado judge sentenced McDuffie to two concurrent six-month sentences in prison for contempt of court.
The SEC subsequently took up the case, followed by the V.I. Department of Justice.
Despite calling itself a credit union, HMCU was never chartered as a credit union by Colorado, by any other state or by the National Credit Union Administration, the federal regulator of federally chartered credit unions. Her Majesty's Credit Union is not insured by the National Credit Union Share Insurance Fund, a U.S. government-backed fund used to protect deposits of credit union members.
But the U.S. Virgin Islands had no law requiring it to be chartered or insured – and still does not, until or unless the bill approved Thursday is enacted into law.
Banking and Insurance Division Director Gwendolyn Hall Brady told the committee, "Our safest course of action is to require all credit unions be federally chartered and come within preview of the National Credit Union Administration."
Some of the responsibilities of the NCUA are the issuance of interpretative rulings, financial performance reports, legal opinion letters, strict rules and regulations, reviews every three years, and the ability to examine chartered credit unions and issue administrative orders when it finds that a credit union or persons affiliated with credit union is in violation of the law, Brady said.
"In your testimony, you mentioned the annual oversight visits of the credit unions by external auditors … How often are the audits conducted?" Graham asked Brady.
"The audits are conducted once a year by external and federal auditors. Upon completion, the reports are sent to NCUA for further review."
Sen. Marvin Blyden said, "I support this legislation because it is gives the territory an upgrade by raising the standards of the credit unions. More importantly, it provides financial protection to the people of the Virgin Islands."
Sen. Sammuel Sanes agreed. "This is one of those bills that makes plain sense."
Sanes asked if the HMCU fraud victims got their money back.
Brady suggested they may not have but said if HMCU had been insured they would have been reimbursed.
Sen. Positive Nelson said updating the law is a good thing but not the only issue with HMCU.
"My main issue is that credit unions should have never been authorized by the Department of Licensing and Consumer Affairs because jurisdiction should be under the Division of Banking. If this was the case, regulation of Her Majesty Credit Union would not have slipped through the cracks," Nelson said.
Currently there are five credit unions authorized to conduct business in the territory, and all five are chartered by the NCUA and insured by the National Credit Union Share Insurance Fund Territory, Brady said. They are St. Thomas Federal Credit Union, chartered 1952; Vitelco Federal Credit Union, chartered 1979; Christiansted Federal Credit Union, chartered 1952; Frederiksted Federal Credit Union, chartered 1952; and Mid-Island Federal Credit Union, chartered 1981.
The committee approved five other bills changing local laws regulating the insurance industry, all requested by Gov. Kenneth Mapp.
Four of the bills would help the territory get accreditation by the National Association of Insurance Commissioners, which would help insurance companies set up in the territory, Henry Feuerzeig, legal counsel for Lloyds of London, told the committee. One bill adopts NAIC standards for regulating insurers.
Brady said all 50 states and Puerto Rico have laws adopting those standards and that the lack of similar laws has been cited by insurers as an obstacle to doing business in the territory. The bill would also strengthen financial solvency regulation and the V.I. Commissioner of Insurance's authority to take corrective actions when necessary, she said.
Another bill would increase the amount of capital that insurance companies need, based on the amount of risk they take on in their policies. It limits the amount of risk a company can take and requires a company with a higher amount of risk to hold a higher amount of capital, said Monica Williams Carbon, legal counsel for the Division of Banking and Insurance.
One bill gives insurance regulators authority to identify and address perceived risks to an insurance company from noninsurance and nonregulated entities within the insurance company's holding company structure. Carbon said this became part of the NAIC model law after the financial crisis of 2008, when the financial stability of the AIG Insurance Group was threatened by one of its noninsurance affiliates within its holding company system.
Another of the bills affecting NAIC accreditation formally places third party administrators, who sell policies and collect payments on behalf of insurance companies, under the regulatory authority of the Division of Banking and Insurance. The division already regulates them, using its general authority as an insurance regulator, but this would give it explicit statutory authority, Brady said.
Lastly, the committee approved a bill to make licensing requirements for insurance agents, brokers and adjusters the same as those in the states.
Making the requirements uniform simplifies licensing and allows those licensed in the territory to use the same documentation to be licensed elsewhere and vice-versa, according to testifiers at Thursday's hearing.
All bills were approved without objection. Present were: Sanes, Nelson, Graham, Blyden, Sens. Myron Jackson, Tregenza Roach and Kurt Vialet.