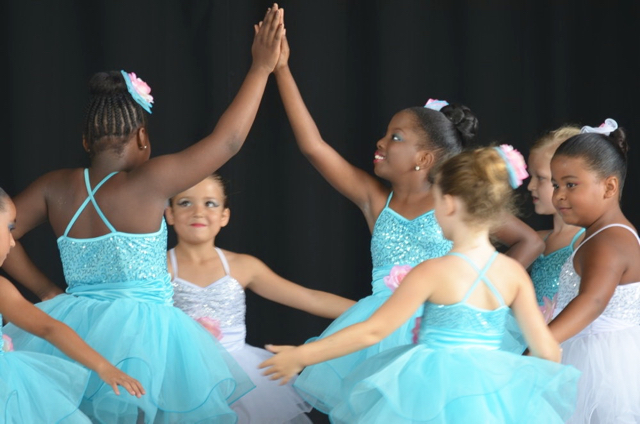 It may start with the stereotypical dress-up dream: a sparkling tiara or a ruffled tutu and pink ballet slippers. Although the crown rarely turns a little girl into a real princess, those dancing shoes can pirouette her into success on a number of levels.
Of course, it's not only girls who benefit. Ballet is such an amalgam of discipline, coordination and strength that it's been used for training by football players.
At V.I. Montessori School and Peter Gruber International Academy, dance is an integral part of the curriculum as well as a popular after-school activity.
"It's just a really fun way to be creative" for Maia Aqui, 12, who is taking two dance courses: Intermediate ballet, and conditioning and flexibility. She's been dancing in one form or another pretty much since she learned to walk and has been studying ballet for about eight years.
Marissa Bornn, 13, said she's been studying ballet ever since she started at Montessori at the age of two.
"It really makes me feel elegant, and it's just really fun," she said, adding, "It requires a great amount of focus."
She takes classes after school twice a week from 3:45 until 6 p.m. She's in the advanced ballet technique class and the pointe class.
Teaching the promising dancers at Montosseri are two experts – Helen Sidiropoulos and Jessica Alvardo.
Sidiropoulos has been teaching for 26 years, the last 15 of those at Montessori. Alvardo, who studied classical ballet and was a member of the Newcomb Dance Company at Tulane University, began teaching dance at Montessori three years ago.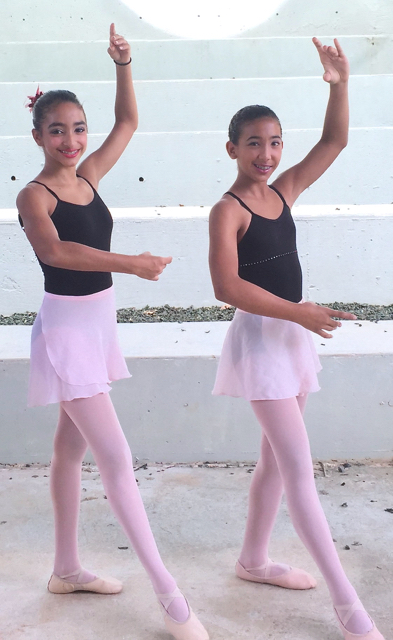 Sidiropoulos's charges range from the tiniest tots to high school students. She has taught tap, jazz, contemporary and cultural dancing in addition to ballet. Besides managing the after-school program for beginning students as young as three years old, she is the director of the Movement Coordination program for seventh to 10th grade students and has introduced many students to a wide range of ethnic dances.
"Muscle development, muscle growth starts from very young," Sidiropoulos said. With the youngest students, "really, posture is what we try to focus on." But the children learn a lot more than how to stand up straight. "There are all kinds of life lessons," she said.
The students learn how to be patient and how to be good listeners. They learn about safety, the importance of repetition in mastering a skill, and that there is a progression to learning.
They also acquire an understanding of what their own bodies can do. In one exercise, Sidiropoulos challenges her students to move across the room without using their feet; it's a great demonstration of the importance of core strength.
Both Sidiropoulos and Alvardo say one of the greatest benefits for students is that dancing boosts their confidence.
"I pick them up around fourth grade," Alvardo said. She teaches beginning, intermediate and advanced ballet technique and, for the first time this year, pointe class. That involves students actually dancing in toe shoes on the tops of their toes and requires a great deal of strength.
She also teaches coordination and flexibility, a class she says is good not just for dancers but for other athletes. She's had swimmers and at least one runner in the class because it's good training.
Alvardo said most of her students have a high level of self discipline. They're also good at time management and are health conscious. Besides they develop an appreciation for the art form.
French is the language of ballet, and Alvardo is a stickler for using the classical terminology. So her students get a little side benefit – a smattering of French.
"One of the joys for me is they're all really excited about it," Alvardo said. "These kids all want to be dancers … They're all really focused."
Several of her students have studied ballet at summer intensives offered by such entities as the Joffrey Ballet and the Interlochen Arts Academy. Bornn is considering trying out for the Miami City Ballet School summer intensive in 2017.
For summer intensives, students have to apply for acceptance, and one of the requirements is an audition performance. In some cases, the school will send a list of specific requirements for the audition and a student can videotape the routine and submit the tape. Others require an in-person demonstration of skill.
Those can be challenging, Alvardo said, especially if it's a case of a "blind" audition in which the student has no opportunity to prepare a routine but rather has to react immediately to instructions. She helps prepare them by giving them new combinations and showing them only once "because that's how it will be at the audition."
Dance options at Montessori are not limited to ballet. The school incorporates dance into its curriculum in a number of ways.
In the Interdisciplinary Arts Program, Sidiropoulos guides students through the intricacies of cultural dances. She generally picks the dance for the younger children to learn, typically something executed in pairs or in a circle. But she encourages older students to select the dance they want to learn, honing in on a region or a country that coordinates with their other studies. The students learn the history of the dance, its place in the culture, and the common themes it symbolizes.
"Circle dances particularly are to show unity and solidarity," Sidiropoulos said.
One year, students planning a trip to Greece first learned the Syrtaki. When they got to the country, they didn't know enough of the language to converse, but they did know the popular dance.
"They danced with people in the street," Sidiropoulos said. "They felt really proud because they were prepared."
Another year, teachers visiting St. Thomas from Spain were treated to a performance of the Sevillanas by Montessori students.
"They said it felt like home," Sidiropoulos recalled.
She has also taught Virgin Islands folk dances, Israeli and Danish dances.
On another level, eighth graders take part in the 10-week program, Dancing Classrooms, which is designed to expose middle school and junior high school students to ballroom dancing and promote respectful socializing between adolescent girls and boys. Both Sidiropoulos and Alvardo trained and worked with Dancing Classrooms, which was introduced in V.I. public schools several years ago.
Finally, juniors and seniors in the International Baccalaureate Diploma Program at Montessori can elect to take high-level dance as one of their three high-level option courses. Sidiropoulos teaches the course and its requirements include not only performance but choreography. combined with research and writing papers. Students are judged by international examiners and scored on globally accepted standards.
"For the third year, they exceeded the world average," Sidiropoulos said.
Such success may not lead to a stage career, but it may promote a well-rounded, well-grounded individual with an understanding and appreciation of arts and culture.