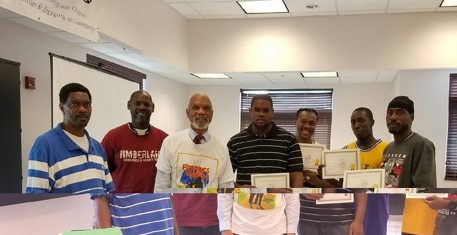 Head Start hosted its 9th Annual Father and Child Activity Day on Friday, Oct. 21, at the Head Start Sugar Estate Complex on St. Thomas in conjunction with Department of Human Services Office of Childcare, Licensing and Regulatory Services. All fathers and male caregivers who are involved in the lives of Head Start and private day care students were invited to attend. They had an opportunity to participate in various activities: photo shoot, container gardening, woodwork activity, It's All About Me, bread-in-the-bag, placemats, picture frames, etc.
Everett Hansen, assistant director of the V.I. Bureau of Corrections, was the guest speaker. He spoke to the attendees about the significant role that fathers and father figures play in their children's lives and early educational development. There was also a presentation made by retired Judge James Carroll to all the Head Start fathers/male caregivers who participated in the VI Fathers March. Certificates were given to the fathers who escorted their children to school on the first day. Head Start also selected its 2015-2016 Father of the Year, Acquovieur Pennyfeather, because of his active engagement in Head Start and for his active role as a father.
Partners in the event were V.I. Department of Human Services' Office of Childcare, Licensing and Regulatory Services; Community Foundation of the V.I.; Virgin Islands University Center for Excellence in Developmental Disabilities; Home Depot; UVI Cooperative Extension Services; V.I. Department of Agriculture; V.I. Mothers Against Guns and Jason Carroll Memorial Fund Inc.