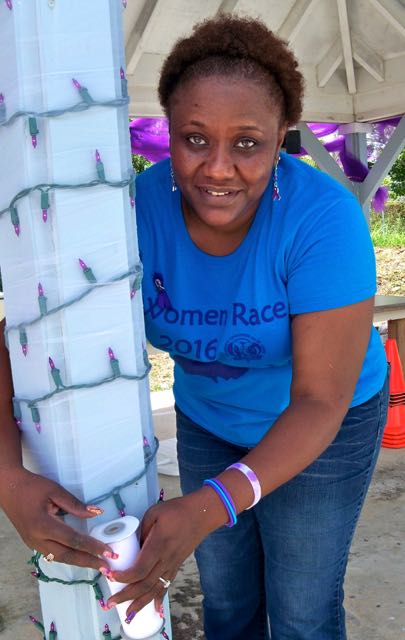 At the Women's Coalition of St. Croix's annual open house Thursday, the community celebrated peace, healing, and the strength and courage of survivors – women told stories and hugged.
October is Domestic Violence Awareness Month, and the Women's Coalition opened its office/crisis center doors to the public with daylong activities to raise awareness about domestic violence.
The Women's Coalition's executive director, Clema Lewis, shared details of the coalition's programs – their successes and struggles.
Lewis said it opened its house to showcase programs as well as to invite the public to have fun at their Purple-Paloozah event with the St. Croix Chamber of Commerce Business After Hours, which was happening Thursday evening.
At that event, there was to be a fashion show, karaoke and poetry reading. In other words, according to Lewis, a time for people to have fun and let their hair down.
At the open house at the center on Fisher Street in Christiansted, staff members gave information on services and the workings of the coalition that has been helping victims for 35 years.
There were tears and success stories told to about a dozen people at the opening remarks.
Young men in the WCSC Project Link Program who have earned their high school diplomas had heart-warming success stories to tell.
Jordon Gordon said he probably would've died before the age of 18 if it wasn't for the chance to get his act together and get his diploma. He said having the diploma opened the door for a career he loves as a jeweler at ib designs in Christiansted.
Christopher Swayne wasn't there to tell his Project Link success story but Temara Honore, transitional housing coordinator at WCSC, proudly talked about her son's success. He is now in the U.S. Army, is an escort for President Obama and he guards the Tomb of the Unknown Soldier in Arlington National Cemetery.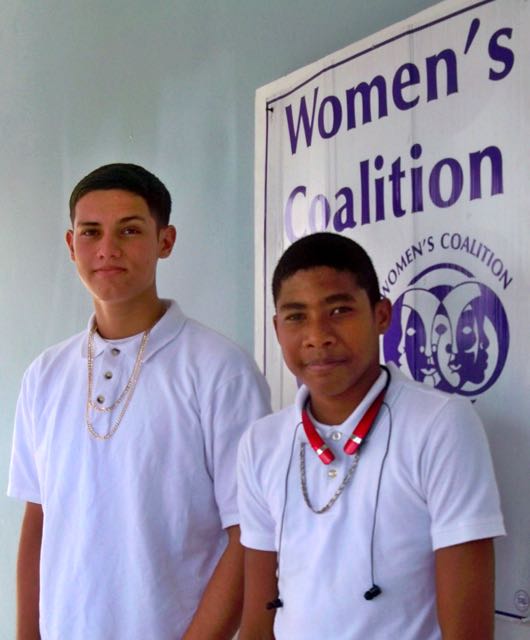 Two other young men, Jordi Contreras and Brandon Korkut, said they were falling behind in school and their mothers decided to enroll them in Project Link. They spoke very highly of the program and the help they are getting with tutoring and how well they are doing.
Susan Divero, director of education, said they have had 100 students graduate since the program began in 2004, as an afterschool project.
Alene Springer, calling herself a champion and not a victim, said the coalition made her feel safe and secure and empowered her to build herself up after fleeing an abusive situation she was in for seven years.
"I learned a whole different dynamic from Women's Coalition," Springer said. "I'm free and the chains have been broken." She is active making art and teaching dance, two things she said she has a passion for that she couldn't do when she was married.
Josefina Cruz, director of intervention services, spoke about counseling and crisis intervention. Brenda Lewis, case manager, spoke about the Sojourner House, a 24-hour emergency shelter for women and children. Lewis said 43 families have been helped over the years.
Viviana Cohen, store manager at Closet to Closet resale shop, encouraged people to talk about the shop and donate gently used items. "Awareness is so important," she said.
Kathy Sheats, board president, said volunteers are the backbone of the agency. She told the group about the victim's advocacy program WCSC has and said they need more advocates to be on call 24 hours a day. She said an advocates training program is scheduled in January.
More events are planned for the remainder of October.
The 35th "Take Back The Night" silent march and rally will be held in Frederiksted on Oct. 20. Marchers are asked to meet at the Frederiksted Fish Market at 5:45 p.m. The march will end at the Eliza McBean Clock Tower for the rally.
"We want everyone to come out, bring a friend, and wear purple to march in silent protest for murder victims and survivors and keep the focus on ending domestic violence in our community," said Carolyn Forno, WCSC's assistant director. Community service hours are available for participating high school students.
WCSC's Supermarket Wish List Campaign gets the community involved in donating canned and household goods for victims and survivors in crisis and families in need. Volunteers will be accepting donations from WCSC's wish list at Cost-U-Less and Kmart West on Saturday and Oct. 29 from 9 a.m. to 3 p.m.
For more information or to volunteer for any of the events, call WCSC's main office/crisis center at 340-773-9272. Visit WCSC's website, wcstx.org, for information on all the DVAM events.