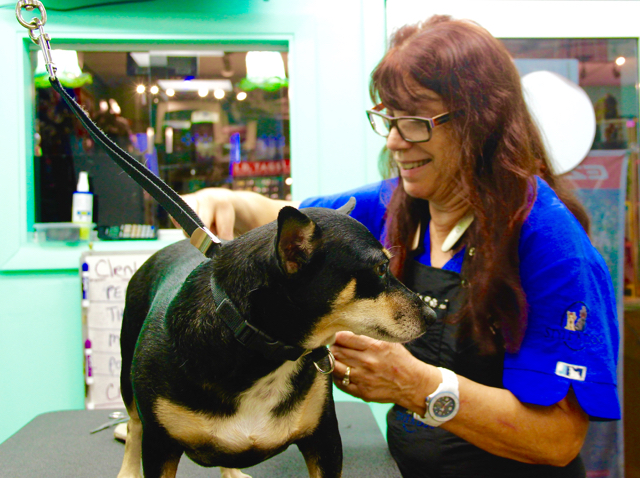 Karen Congero's lifelong love of animals shines through as she brushes down a short-haired, rescue dog named Bovoni and tenderly ties a pink bandana around her neck.
"At the end of the day, knowing you helped an animal feel better is the most rewarding part of what I do," Congero said. "It's not something they can do for themselves."
Congero has owned and operated Style A Dog, a pet grooming salon and retail store in Crown Bay Marina, for the last seven years.
"I've taken a lot of dogs on their first boat ride over to Water Island – many of their owners have never even been there," Congero said.
While waiting for retail space to open in Crown Bay Marina, Congero ran a mobile grooming salon there.
Good grooming is important, Congero said.
"It's also about keeping dogs healthy and paying attention to them," Congero explained. "There's times you can sense if there's a problem with a dog and help bring that to the owner's attention." Being an effective communicator goes a long way, she said.
Congero's love of animals blossomed as a young girl. She recalled bringing loose dogs home to take care of them while her father would help look for their owners.
Lured by the tropical climate, Congero moved to St. Thomas with her husband, Joe, from Long Island, New York, in 2007. Before the move, Congero ran a grooming salon for 30 years in her home state. Eager to work with animals, she started in this line of business right out of high school.
"I think when you love what you do and it's your true passion, you don't look at it like work, so there's never a day you don't look forward to doing it," Congero said.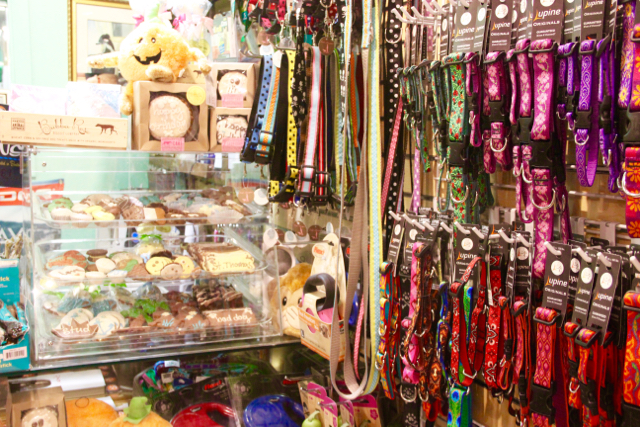 A one-stop shop for pet owners, Style A Dog offers a number of grooming services and products. Customers can drop their dogs off for hair trims and baths, as well as nail clippings, filings and cleanings – what the store enthusiastically calls a "pawdicure."
As an efficient multi-tasker, Congero wears many hats. She grooms, answers calls and assists customers throughout the day. But when she's working with animals, her attention is focused on making them look their best.
Since first opening, the company's retail shop has expanded to meet the everyday needs of customers. Leashes and collars, dog tags and engraving services, water and food bowls and natural shampoos and holistic, U.S.-made pet food are just some of the items that fill the walls of the orderly shop.
"Our sanitation and cleanliness is spot on. When everything is organized it makes for a smooth day," Congero said.
According to Congero, her company's professionalism also sets it apart.
"I am always striving for the best," she said.
In the past, Congero has served on the board of directors at the Humane Society of St. Thomas and her business still offers free grooming for dogs there that need a little extra care.
"We like to help spruce matted dogs up, since it gives them a better chance of finding a home outside the shelter," Congero said.
Congero has three dogs and a cat of her own: Two rescue German shepherds, Sophia and Ava, from the local shelter, and a poodle mix named Marley that she adopted from a client. Her cat, Penelope, is also an adopted shelter cat. Congero credits her husband with giving their pets' names.
"We treat every pet as if they were our own," Congero concludes. "The dedication is there for them."
Style A Dog VI is on Facebook at www.facebook.com/styleadogvi/. The business can be reached by phone at 340-776-3641.