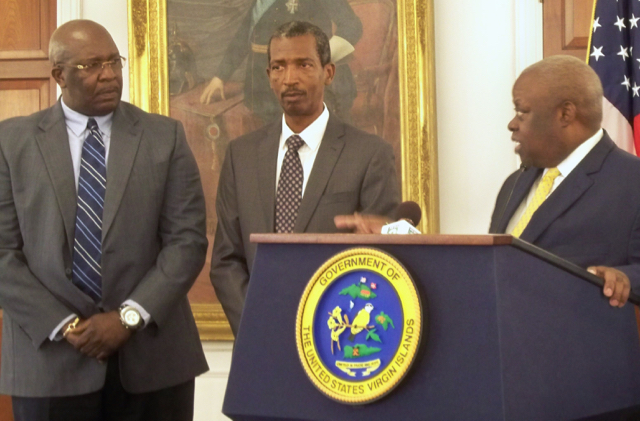 Gov. Kenneth Mapp announced a shake-up at the Department of Public Works Monday, but after all the changes were announced Commissioner Gustave James was still standing by Mapp's side.
Rumors before the press conference were that James would be fired.
During a press conference at Government House on St. Croix, Mapp's tone indicated he was not pleased with the work done by DPW recently.
"Personally, I am not happy with the conditions I see when I am driving around the Virgin Islands," Mapp said, mentioning bushes growing over the side of roads, striping not done on roads, the poor condition of roads in general and garbage being just about everywhere.
His solution, however, was not to get rid of James but to hire more people to get the job done. Twenty of those hired will be boots on the ground in the fight against litter and potholes; 10 to work on St. Croix to make what Mapp called "a cleaner Virgin Islands," seven on St. Thomas and three on St. John.
Newly formed road crews will remove litter and abandoned vehicles, clear brush, repaint striping and report on areas where serious repairs are required or streetlights don't work.
Mapp also shuffled some personnel at the administrative level. Lisa Melchior replaced Pamela Richards as assistant DPW commissioner for administration. Roan Creque will be assistant commissioner for operations in the St. Thomas/St. John District. Roan has more than 30 years experience in Public Works and has agreed to return to help to move the department forward.
Mustafa Abu Saoud has been hired as assistant commissioner of engineering. Vincent Kelly has been hired as deputy commissioner of St. Croix Operations. Dennis Brow, who has been assistant commissioner of DPW for almost five years, will continue as assistant commissioner of operations in the St. Croix District.
Mapp said the effort to make the Virgin Islands cleaner doesn't need to stop with the government.
"Some of you need to stop dirtying the island," he said, saying he is looking to strengthen littering laws. He would like to see offenders out cleaning up public areas wearing T-shirts that said, "I am a litterbug."
Lt. Gov. Osbert Potter was also at the news conference and referred to two different areas in which his office was working. He said the ground work had been done so two public auctions of lands with "seriously delinquent" tax bills could be held next year. The last time such an auction was held, the sales had to be cancelled because proper notice and other standards were not upheld. The first auction will be held in June and the second before the end of the year. Potter said the government could earn as much as $100 million dollars from these sales.
He said his office has also been working with stateside firms trying to get individual health insurance coverage for residents who are not covered by group plans. Those efforts were unsuccessful, but he is planning to meet with some insurance firms in Bermuda in the near future and has hope for success there.
Mapp also discussed the recent graduation of eight Virgin Islands Police officers from a rigorous six-month course at the New York Police Department Training Academy. He said that he had heard nothing but good news about the territorial officers at the academy. A welcoming back ceremony is being planned for them at Government House, he said.
The VIPD is expecting to send eight more officers to the Academy this year.