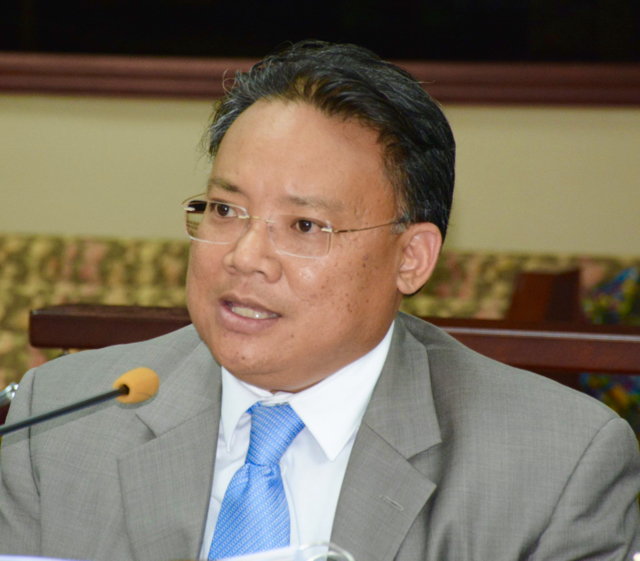 The Gov. Juan F. Luis Hospital has been trending toward being less in the red over the last two years and may benefit from likely changes in how Medicare and Medicaid reimburse it, but the hospital is still in a deep financial hole, acting Chief Executive Officer Richard Evangelista told senators during budget hearings Wednesday.
The hospital still faces millions of dollars in uncompensated care, millions more owed it by other government agencies and is tens of millions in debt to utilities, pension plans and vendors, Evangelista said.
For FY 2015, after the government appropriation, JFL was in the red by $5.1 million, while they project a much smaller loss – $1.7 million – for FY 2016. And for FY 2017 they project a loss of $845,000, Evangelista told the Finance Committee. But a loss is still a loss and Evangelista emphasized the hospital urgently needs more financial help.
Greater efficiency and improved billing played a role in the improvement. Billing to patients ceased altogether for a time in 2013. (See: Hansen, Griffith to Blame for the JFL Decertification in Related Links below) But in the last few years, while services and procedures performed have remained flat or declined, billing is capturing more and more revenue.
Since FY 2014, JFL's gross charges have improved 14.8 percent, net patient revenue has improved 20.9 percent and the hospital's expenses as a share of net revenue has decreased by 26.6 percent he said.
The hospital has been approved for "presumptive eligibility" for Medicaid, allowing faster federal payment.
Average monthly cash collections have increased from $2.8 million in FY 2014 to $4.3M in FY16.
But the hospital still provides large amounts of uncompensated care, as it has for many years. Mandated to provide care without regard for ability to pay, it relies upon appropriations by the V.I. government to cover its losses. But the government funding is always much less than the costs.
For the last several years, the V.I. government has appropriated about $20.1 million per year to the hospital, while the hospital has provided uncompensated care that would be billed at between $22.9 million and $26.2 million. It absorbed a combined shortfall of $8.77 million for FY 2014 and FY 2015, and is looking at about $7 million for FY 2016 and 2017, he said.
The hospital also needs millions of dollars in renovations, and it owes $55 million for utilities, pension payments and vendors. Government agencies have about $8.5 million in past-due billings owed the hospital, said JFL Chief Financial Officer Tim Lessing.
Without funds to pay for uncompensated care and payment for services to government agencies, "We will never be able to get over this hump of the $60 million in debt and we also can't make the necessary investments in the facility, which is literally falling apart around us," Lessing said.
In 2014, JFL applied to have the Centers for Medicare and Medicaid Services update the rate it uses to calculate Medicare reimbursements. The rates for JFL have not changes since 1996. JFL members met with CMS in Baltimore in April and are waiting on a response, Evangelista said.
If that happens, the hospital will get something much closer to its expenses for each patient, meaning millions of dollars for the hospital. For example, Evangelista said, while CMS reimburses JFL $10,000 per discharge now, its cost is closer to $17,000, for a loss of $7,000 per patient.
JFL Chief Financial Officer Tim Lessing said if CMS approves the change, JFL may also be able to retroactively bill for the last three years, This would mean $8 million or so per year going forward and potentially billing up to $24 million retroactively, Lessing told senators.
JFL has also been working with the U.S. Veterans Administration to evaluate having dedicated wing or portion of the hospital to be used by VA patients exclusively.
"The model has not been finalized but the opportunities are endless,"he said.
Sen. Sammuel Sanes said he recalled in years past the hospital performed some VA services for veterans and that doing so again would be very helpful to veterans who now have to travel to Puerto Rico or Miami, while also bringing in money to the hospital.
"That could be the catalyst to resolve your financial difficulties," Sanes said.
Evangelista said he was "hopeful that they will at a minimum allow the VA to use whatever ancillary services we have at the hospital." But he said the hospital was still in discussions.
Another JFL staff member said the VA may have to finish a contract with its current provider, which expires in December.
Sen. Clifford Graham said there might be more funding for the hospital if a planned bond issuance goes forward, but its fate was uncertain because of the recent downgrade in the territory's bond rating. (See: Moody's Downgrade Throws 'Gaping Hole' Into Budget in Related Links below)
"I don't know how the bond bill will end up but I do know the bond bill has $20 million in operating expenses for both hospitals," Graham said, adding that he hopes the funds can be used to help pay hospital utility bills. He noted that the V.I. Water and Power Authority was also facing severe financial problems and just had its bond rating downgraded for the second time in a month.
Evangelista presented the hospital's proposed FY 2017 General Fund budget of $20.15 million. Of that, $5.36 million is a local match for Medicaid. The hospital also projects generating $56.8 million from its own fees for services, for $77 million in total funding, of which $71.6 million is available for operation costs and $5.36 million is the Medicaid match.
Human Services Commissioner Vivian Ebbesen-Fludd presented that department's proposed FY 2017 budget of $69 million – a $10 million increase from FY 2016. Much of the increase – about $3.8 million, is increased personnel wage, salary and benefit costs due to recent salary increases.
The agency also expects to receive another $74.7 million in other funds for a total of $143.7 million. That includes $68.7 million in federal funds.
Frederiksted Health Care, which operates the Ingeborg Nesbitt clinic in Frederiksted, a clinic at St. Croix Educational Complex and an office in Christiansted, also presented its proposed General Fund budget of $2.38 million, which is $388,000 more than the governor's recommended budget of $1.99 million. FHC is largely funded federally and is projected to receive $7.35 million in federal funds for FY 2017.
No votes were taken during the information-gathering budget hearing. Present were: Graham, Sanes, Sens. Kurt Vialet, Marvin Blyden, Myron Jackson, Positive Nelson and Tregenza Roach. No members were absent. Non-member Sens. Justin Harrigan, Nereida Rivera-O'Reilly and Kenneth Gittens also attended.