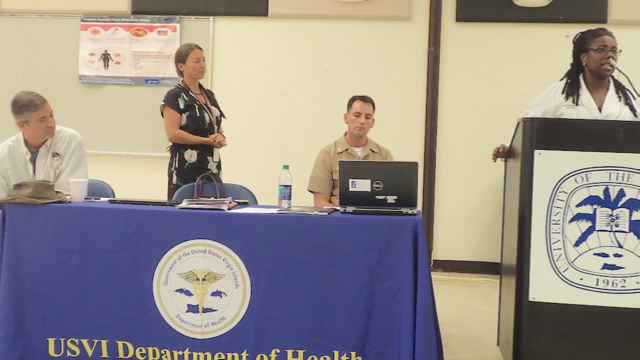 Residents of the Virgin Islands should get tested for the Zika virus, local and federal health officials said Tuesday, because many of those infected show no symptoms and the disease carries a risk of birth defects and miscarriages.
Representatives from the U.S. Centers for Disease Control and the V.I. Health Department talked with residents at a public forum Tuesday evening on St. Croix. A second session is planned for Wednesday on St. Thomas.
Dr. Aaron Harris, a medical epidemiologist for the CDC,, called Zika "the explosive epidemic in the Americas." Zika was discovered in the 1950s in Africa and resurfaced in Brazil in 2015. It is a mosquito-borne virus with symptoms similar to dengue fever and chikungunya and, like the other two, there is no vaccine or treatment.
However, unlike dengue and chikungunya, Zika attacks the brain and can be sexually transmitted.
The territory's Zika outbreak began in January and the number of cases have increased steadily.
"There's no evidence it's slowing down now," Harris said.
Most cases of Zika are mild, Harris said, and the illness lasts for several days to a week. Symptoms include a fever, rash, headache and joint and muscle pain. Some people experience conjunctivitis and eye pain, but many people have weak or no symptoms at all.
The biggest risk of Zika is to pregnant women and their fetuses, Harris told several dozen people at the University of the Virgin Islands Great Hall. Infected women are more likely to have miscarriages and babies with microcephaly, vision and hearing defects and growth impairment. Microcephaly is a smaller than normal head associated with incomplete brain development.
Women can transfer the virus to the fetus during pregnancy and just before birth. They can also transmit or receive it from sexual partners. Since there have been no cases of the virus being transmitted through breast milk, mothers still are encouraged to breastfeed their newborns, Harris said.
There have been 436 reported cases in the territory with 65 cases of Zika confirmed, according to Dr. Esther Ellis, DOH territorial epidemiologist. Forty-five cases are on St. Thomas, 19 on St. Croix and one resident of St. John has Zika. Most of the infected people reported headache and joint pain and/or swelling, she said.
The Zika virus is confirmed through blood and/or urine tests and the DOH will reimburse for the tests that then are sent to the CDC for evaluation. Ellis said results are usually within two weeks. She added that the territory may soon have a laboratory qualified to analyze tests for Zika, dengue and chikungunya.
Once a person has been infected with Zika, they are immune and will not contract the virus again, Ellis said.
Harris, Ellis and Obstetrician Olivine Anne Treasure stressed the importance of women being screened who are pregnant or plan to become pregnant. Pregnant women should be tested each trimester and those who want to conceive should wait 18 months. Treasure said all of her patients have been tested and are being monitored closely for symptoms. Harris said there is no evidence that being infected affects future pregnancies.
Preventing Zika means eliminating mosquitos – Aedes aegypti and Aedes albopictus – that also carry dengue and chikungunya. Dr. Dan Markowski, of Vector Disease Control International, listed many of the familiar precautions including using window screens, nets, long sleeved clothing and removing standing water. He recommended larvacides and said permethrin is a good repellant to treat clothing. For adult skin repellant, Markowski recommended 30 percent DEET, Picardin, IR3535 and for adults oil of lemon eucalyptus or para-menthane-diol.
Although the mosquitos travel only 200-300 feet, infected people have a wider range and should continue to use repellant, he said.
"If somebody gets infected, they have the potential to infect five others," he said, through sexual contact or mosquito bites.
Zika can also be spread through sexual activity and pregnant women and their partners should use condoms, said Treasure and Harris.
Ellis said the DOH will also help residents with mosquito control and Zika prevention kits.
The Zika forum will be repeated on St. Thomas Wednesday from 5:30 – 7:30 p.m. at the Charlotte Kimelman Cancer Center at the Schneider Regional Medical Center.