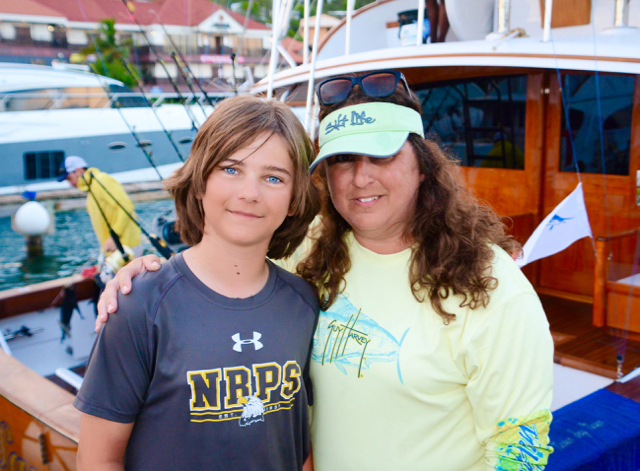 The release of two blue marlin landed Never Say Never in the lead after the first day of fishing Sunday in the 53rd July Open Billfish Tournament, hosted by the Virgin Islands Game Fishing Club.
According to the tournament hosts, the Davie, Florida, based mother and son team of Melissa and Zac Murck aboard the 58-foot Merritt are fishing in Virgin Islands waters for the second year in a row. Zack, who won the Top Junior Angler in this event last year, released the boat's two blues today.
"We had a bite early, then I released my two marlin at 11:45 a.m. and 12:45 p.m.," fourteen-year-old Zac said. "The first one came up in the center spread and the second was on a pitch bait. I caught both of them pretty quickly. We saw another fish around 4:45 p.m., but couldn't get it to bite."
In second place is the 75-foot Weaver, Sodium. Angler/owner Chad Damron, from Crystal Rivers, Florida, released the marlin about an hour after lines in. The release was the first of the tournament.
"The fish came up on the right teaser. We pitched it a bait rigged with ballyhoo. It came off the teaser and ate right away. I released it in 9 minutes. It was a textbook catch and release. There's nothing better," Damron said.
Wave Paver, a 61-foot Garlington based out of Port Canaveral, Florida, finished the day in third with one blue marlin release.
"We missed one fish mid-day and then caught one late afternoon about 15 minutes before lines out. We were glad to get it," said Wave Paver's angler/owner, JR Davis.
Wave Paver earned Top Boat in the 2015 JOBT with the release of seven blue marlin in three days.
Tournament fishing resumes Monday with lines in the water at 8:30 a.m. and out at 5 p.m., according to the VIGFC news release.
The public is invited to greet the fleet as the boats come back to the dock around sunset. The number of flags flying on the outriggers indicates how many billfish the boat's anglers caught and released for the day. The JOBT is an all-release tournament.
New this year, instead of observers, anglers will be given cameras with a different color ribbon each day of the tournament to document and verify catch and releases.
The three-day tournament ends Tuesday with lines out at 4 p.m. followed by an awards ceremony at the VIGFC clubhouse in Red Hook. In addition to Top Boat, up for grabs is the "Give Him Line" award for Top Angler. The names of past winners engraved on this perpetual trophy reads like a who's who of blue marlin sport fishing.
More information is available online at www.vigfc.com or by calling 340-775-9144.