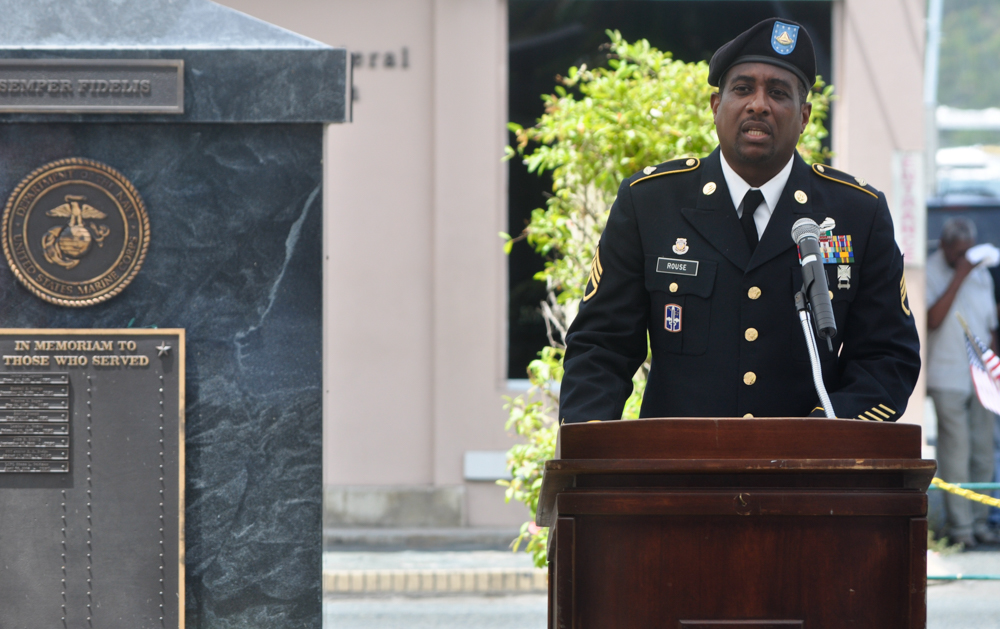 V.I. National Guard Staff Sergeant Rae Rouse, keynote speaker at Monday's Memorial Day ceremony on St. Thomas, used his address in Veterans Park to remind the community of the true meaning of the holiday.
"Today is a day of honor and reverence; it is a solemn day," said Rouse. "We need to remember those men and women who signed a blank check payable with their life to the American people."
A St. Thomas-born veteran of Operation Enduring Freedom, Rouse said he initially considered turning down the offer to deliver this year's Memorial Day keynote address. So many previous speakers at Memorial Day events, he said, have been "older soldiers who served in World War I, World War II, Vietnam or the Gulf War; or family members of fallen soldiers."
He wondered what he could say.
But Rouse ultimately decided that his experience of Memorial Day over the years was instructive of how easily the meaning of the day can become lost.
"Growing up I vaguely remember marching in Memorial Day parades," said Rouse, but he added that as a youth those events were simply a day to be outdoors and interacting with friends, with the added benefit of having a day off from school.
After graduating from high school, Rouse said, Memorial Day remained "a day to enjoy going to the beach and a day off." Even after he enlisted in the National Guard in 1994, he said the holiday mostly meant traveling to Atlanta to enjoy that city's Caribbean Carnival events, which take place over Memorial Weekend.
But Rouse's relationship with the holiday changed in 2001 when his close friend, a fellow soldier, died. Rouse requested to be a part of the honor guard detail at his friend's funeral so that he could present the U.S. flag to his friend's family.
"It was the first time that the feeling of losing a fallen brother affected me," he said.
Rouse said that during the following year's Memorial Day he felt he had in the past "somewhat lost respect for the day and what it symbolizes." During that same year, 2002, Rouse said the nation celebrated Memorial Day with renewed passion after the terrorist attacks of September 11, 2001.
But since then, Rouse said, he has observed interest in the "memorial" part of "Memorial Day" receding.
"Often the day is not observed as it should be," he said. "We are beneficiaries of our ancestors, our family, our loved ones, our neighbors, our friends who have given the ultimate sacrifice."
Rouse said there are many ways to honor fallen soldiers on Memorial Day other than attending parades. He suggested visiting cemeteries to place flags and flowers on the graves of soldiers, visiting veterans' memorials, flying flags at half-staff and flying the POW/MIA flag, participating in a national moment of remembrance in the afternoon, and especially offering to aid the widows, widowers and children of fallen soldiers, as well as disabled veterans.
Following Rouse's address, Delegate Stacey Plaskett was scheduled to offer remarks but was unable to attend the ceremony. Instead Sen. Myron D. Jackson spoke briefly about the fact that Virgin Islanders themselves petitioned the U.S. Congress after transfer to be allowed to serve in the military.
"This is unique and a relatively unknown fact of history but it's something that we should not forget," he said.
Jackson also said that Virgin Islanders' history of fighting in U.S. wars predates transfer and the modern era. He said those born in the Danish West Indies had been members of various branches of the U.S. military as far back as the Revolutionary War.
Lt. Gov. Osbert Potter also offered brief remarks at the ceremony, saying "the time is well past" that Virgin Islanders be able to vote for the president of the United States.
Potter said he expects movement on that issue in the immediate future and that both the territory's delegate and the Governor's office will continue to advocate for Virgin Islanders' voting rights.
Monday's ceremony in Veterans Park followed two solemn memorial services for fallen soldiers on St. Thomas, one at Western Cemetery and another on the Charlotte Amalie waterfront.
Ceremonies were also held on St. Croix and St. John, where Command Chief Warrant Officer Augustin C. Webster and Geneva Paris were the keynote speakers respectively.