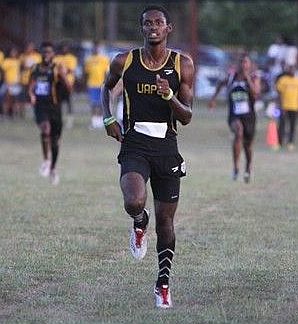 Malique Smith, a member of the V.I. National Junior Track and Field team, capped a successful freshman year at the University of Arkansas Pine Bluff (UAPB) when he won the SWAC (Southwest Athletic Conference) gold medal in the 800 meter (1:53.30). Bryont Brown of Alabama State (1:55.67) was the silver medalist; Montieco Harris of Grambling College (1:57.82) was the bronze medalist.
In addition, Smith ran a successful second leg in the team's 4 x 400m relay team, which also took first place in the SWAC Conference Championships.
Smith has been coached all his life by his parents, Mireille Smith — an All-American middle distance runner and NCAA Champion at Eastern Michigan University and national team member of Surinam — and Keith Smith — ECHS track and field coach, Pan American Games bronze medalist and Barcelona Olympian for the Virgin Islands. He is finding his way in determining what distance is best for him.
He won UAPB's "Most Valuable Player Award" for his performance during the cross-country season. He also received the school's "Academic Excellence Award" for his work in the classroom. His victories in the 800m and the relay at the conference championships garnered him the "First Team All-Conference" award and establishes him as one of the most successful freshman student/athletes in the history of the St. Croix Educational Complex High School.
The honors were bestowed upon him at the Inaugural Golden Lions Awards Showcase at UAPB.
Note: Malique followed Ninfa Barnard, a graduate of St. Croix Educational Complex, who also starred in the middle distances there setting some V.I. national records, to the University of Arkansas. She was a science teacher in the pure sciences there, but she now teaches high school. Also, his high school teammate at ECHS, Rodney Griffin, who recently signed a letter of intent and received a scholarship, will join him this fall at UAPB.