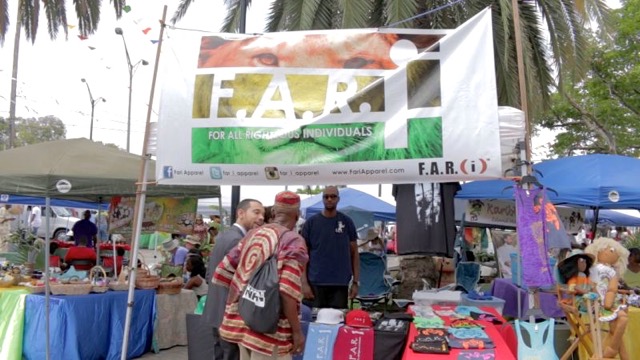 From organic honey to handmade dolls, this year's Cultural and Food Fair offered up a little something for everyone that packed into downtown St. Thomas on Wednesday.
Named "Theresa's Sweet Shop" this year in honor of local tart and winemaker Theresa Arnold-Davis, the food fair is always one of the highlights of the Carnival season, giving local farmers, cooks, artists and everyone in between a chance to show off their wares.
While the fair usually gets going around noon, the streets around Emancipation Garden were packed as early as 10 a.m. Wednesday, and vendors were ready to serve up hot plates of all the island favorites, including stewed chicken, conch in butter sauce and grilled lobster.
With several cruise ships in port, the garden was also filled with visitors looking for local souvenirs and the arts and crafts booths did not disappoint. From St. John resident Esther Frett with her handmade dolls to St. Thomas soap-maker Aquanette Chinnery, fair goers spent hours in between the stalls and could be seen leaving with bags and bags of items.
Fresh lettuce, homegrown pumpkin, large pots of fruit trees and other produce were also in high demand Wednesday, sold by local farmers, such as brother and sister pair Tiona "Sweet T" Allembert and Roinel "Honeyman" Allembert, who have taken over their family's honey-making business.
V.I. Source reporter Kelsey Nowakowski learns more about the Allemberts' business and explores the fair in this video report.