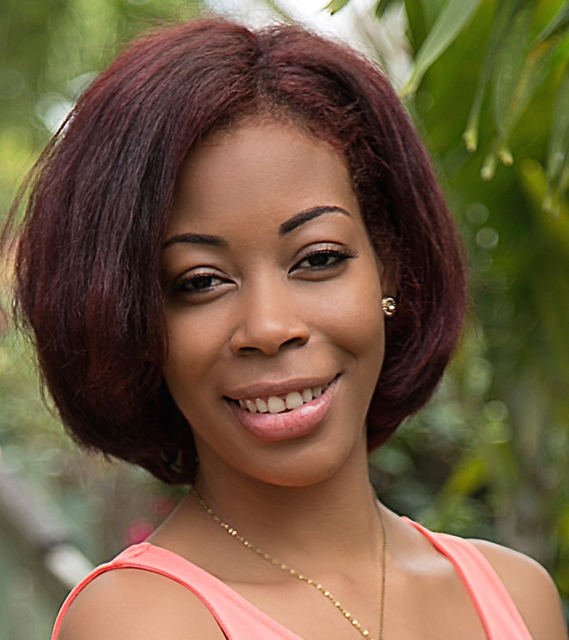 Jessica Mac Donna is not just one of the newest restaurant owners on St. Thomas; at 28, she may be the youngest. But she's already a seasoned chef.
She and partner Eliana Rijo have been running the Sabroso Restaurant in Anna's Fancy, just west of downtown Charlotte Amalie, near the Western Cemetery, for about a year now and recently launched its website, www.sabrosovi.com.
Mac Donna originally opened the eatery and take-out service three years ago at the eastern edge of town, on Norre Gade. She established a small but loyal customer base, primarily for lunch, offering a varied menu with a heavy West Indian accent. When she lost her lease and was forced to close, she cooked from home until the current space became available. That's when Rijo, an early employee, became a major investor.
"Sabroso" literally means "tasty" in Spanish, Mac Donna explained. But colloquially it can be applied to just about anything, including someone's personality. "It's a feel-good word."
A love of good food and skill in preparing it come naturally to Mac Donna. The grandmother who helped raise her in the Dominican Republic was an accomplished cook who not only delighted her family but kept a steady string of restaurant customers happy.
By the time Mac Donna moved to St. Thomas at the age of 10, she knew her way around a cookpot. During high school – she graduated from Charlotte Amalie High School – she spent her summers helping out in her uncle's business, D&H Catering.
Then she headed off to New York for a couple of years and earned an associate's degree in culinary arts from Monroe College.
She returned home eager to get into business, and when an opportunity arose she jumped at it. But she's the first to admit there's more to a restaurant than its kitchen.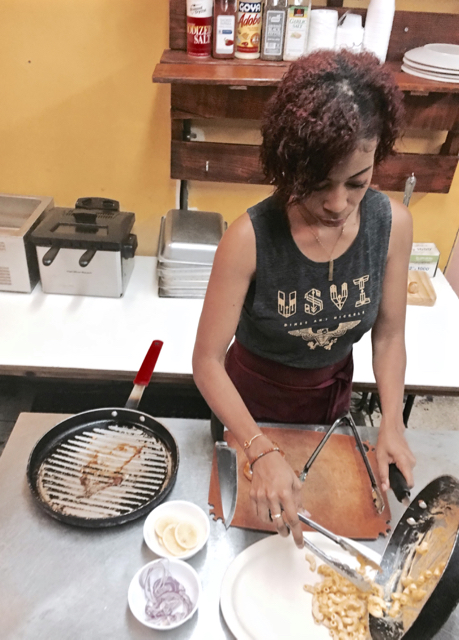 "It's extremely hard," she said. "I don't think I realized that. I underestimated a lot of things." She didn't take into consideration the need for parking at her first location, and she didn't factor everything into her expenses. "Food spoils. If something goes bad, that's money going into the trash." Then there's payroll, rent, utilities – all of which dig deep into profits.
Her father tried to warn her when she first told him she wanted to start a restaurant.
"He said, 'You're crazy,' " Mac Donna recalled. He pointed out that she didn't have a business plan or a business background. "He just broke my heart."
But when he realized how disappointed she was, she says he relented and told her to take the chance. Maybe you'll succeed, he told her, and if not, then "you learn a lesson at an early age." Both of her parents have been very supportive.
When she was forced to close at her first location, Mac Donna recalled, "My mom said 'I'm going to look for another place for you.' " She's the one who found the Anna's Fancy site. It was just an empty shell then, but "Dad helped rebuild everything inside."
Her mother, who is also an accomplished cook, fills in when the restaurant is short-staffed and her dad "is the go-to guy" in any crisis – such as finding someone to repair a non-functioning air conditioner.
Having such backing "helps me keep going," Mac Donna said, adding she's also supported by hard-working staff and a core group of customers who understand and accept when she has problems. Then there's her CAHS classmate, Ruthie Thomas, who's also starting her own business, a public relations firm, and has signed on to promote Sabroso. "We're both start-ups. We're helping each other out."
The menu changes every six months. In crafting it, Mac Donna said she takes her inspiration from a lot of sources. She starts with the basics that her mother perfected and combines that with her own research.
"I follow so many food bloggers it's ridiculous," she said.
She also eats out a lot, sampling different types of cuisine.
"Most of my business is local," so she offers the more popular Caribbean staples including macaroni and cheese, plantain, coleslaw and, of course, rice and beans – "That's our flag, right there." She's found salmon is a favorite with many of her customers as is chicken, local lobster and pot fish.
"I do come up with all of the recipes," she said. "I do cook, too, but I'm not the only one in the kitchen."
She has a small staff who, she said, do a great job. They like good food themselves and "If they wouldn't eat it, they wouldn't serve it."
The restaurant is small and can seat only 16 people at a time. But there's no limit on take-out orders or on delivery orders.
Sabroso is open six days a week. Hours are 11 a.m. until 7 p.m. Monday, Tuesday, Wednesday and Saturday and 11 a.m. until 9 p.m. Thursday and Friday. It's closed Sunday.
"Sometimes I wonder if I need a bunk bed in the kitchen," Mac Donna joked. But she's certainly not complaining. "This is my life, and I'm happy."
More information is online at www.sabrosovi.com. The restaurant's phone number is 340-626-9054, and delivery orders can be phoned to 340-626-9294.