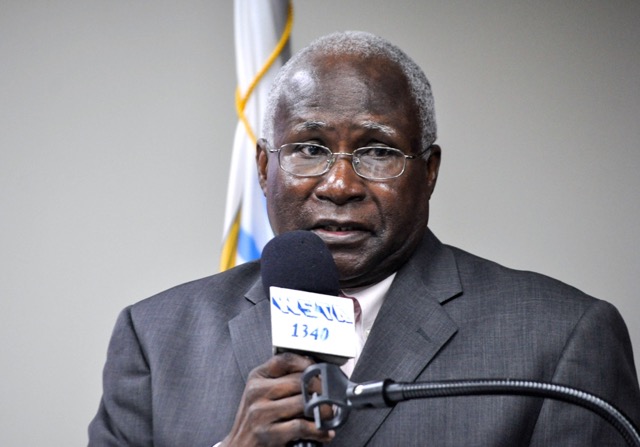 Austin L. Nibbs, administrator of the Government Employees Retirement System, said at a press conference on Tuesday that misinformation about the failing pension system's investment portfolio may be obscuring the larger issue of its huge unfunded liability.
GERS's investment portfolio is relatively successful, Nibbs said, but that doesn't stop some in the territory from blaming the system's looming insolvency on financial mismanagement rather than structural problems that have been building for decades, including insufficient contributions, unfunded benefit increases, and a growing imbalance between active employees and retirees.
The year 2025 is the most commonly cited projection for when GERS will find its coffers empty, at which point incoming contributions will be all the system has to pay out benefits.
GERS is currently liquidating its assets in order to meet its obligations, but the system's board of trustees has little power to enact the politically unpopular reforms that would prevent it from going broke. That obligation falls to the system's plan sponsor, the central government, which has underfunded the system by approximately $1.3 billion over the last 25 years.
"If you hear the buzz out there you would think that we are not doing well," Nibbs said. "Our investments have always done well. Our investments are what have been carrying the system to today to make up for the shortfall."
Much of that "buzz" is the result of a March 7 report by the V.I. Inspector General's Office that called into question the strength of GERS's "alternative investment program," which covers real estate, investments in local business, and its suspended loan programs. GERS ceased making alternative investments in September 2015 as overall liquidity concerns grew.
Approximately $137 million of GERS's $919.6 million in assets is currently held in these sorts of alternative investments, which the IG report found to be risky and not sufficiently monitored.
And some of these investments, in particular loans to local commercial businesses, the report questioned GERS's authority to make.
GERS maintains that the investments questioned in the report, such as $8.2 million paid out for the establishment of a grocery store on St. Thomas, fall under the category of "special situations," defined under the alternative investment program as "unusual investment opportunities due to some special development, i.e. a merger, oil discovery, new product development, etc."
Nibbs said that GERS prefers those "special situations," sometimes referred to as nonmember loans, to be referred to as investments.
GERS collects interest from those investments, and Nibbs said all entities remain current on payments. This includes approximately $900,000 in interest collected to date from Kazi Management V.I. LLC and $1.7 million from the V.I. government.
The maturity date is 2024 on GERS's supermarket investment, an establishment soon to be opened by V.I. Finest Foods LLC near the University of the Virgin Islands. GERS says the investment is secured by bank accounts, property, equipment, inventory and leases, and a certificate of deposit in the amount of $1.3 million.
One of GERS's most well-known alternative investments, Carambola Beach Resort on St. Croix, is projecting gains for the year under its new management company, Aimbridge Hospitality.
When Carambola Northwest LLC defaulted on a 2009 GERS loan, the resort property was turned over to the pension system in 2012. Since then GERS has invested $9 million in infrastructure upgrades with the intent of increasing the property's value for resale.
"Carambola is on the way up," said Nibbs.
GERS does stand to lose $42 million from a 2006 investment in speculative life insurance policies that is scheduled to come to an end in 2017. This represents the weakest link in its alternative investment portfolio, Nibbs said.
The loss is not small, but it's nowhere near the near the approximate $150 million deficit the system experiences annually just from benefit payouts and expenses.
When it comes to GERS's traditional investments in stocks and bonds, the system has reported healthy gains in 16 out of the last 22 years. The traditional investments lost money in the remaining six years, mostly in years when global markets were down, Nibbs said.
The worst year for GERS's traditional portfolio came during the financial crisis of 2008, when the portfolio suffered a loss on investment of nearly 25 percent, Nibbs said. The next year the portfolio was back on track, reporting a gain of 21.1 percent. Generally, he said, in the years between 1994 and 2015, the traditional portfolio gained a return on investment between 6 and 20 percent each year.
The success of some GERS investments should be little consolation to those government employees and retirees fearful of what the future holds, but until the plan sponsor acts to reform the system, Nibbs said GERS will continue to sell off its assets. This means the eventual sale of the GERS office buildings in both districts as well as Havensight Mall on St. Thomas.
Nibbs said GERS officials will be discussing their own suggestions for reforms at a retreat in July, suggestions which he looks forward to sharing with Gov. Kenneth Mapp this year. Mapp pledged to reform GERS "once and for all" during his 2016 State of the Territory Address in January.