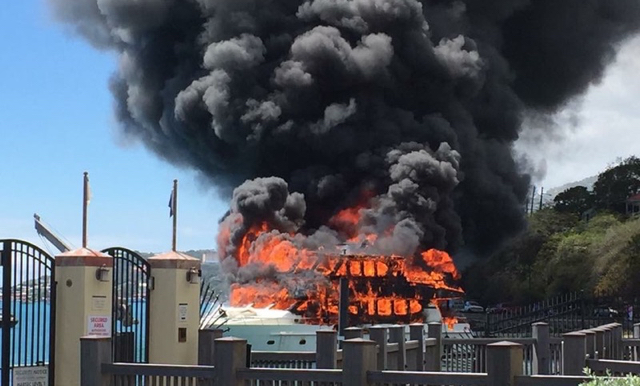 While officials are still working to determine the cause of a fire that took down a luxury yacht moored in the Charlotte Amalie Harbor on Tuesday, statements from different organizations confirmed that no one was hurt by the blaze.
The luxury yacht Positive Energy was anchored at the Yacht Haven Grande marina when it caught fire; statements from YHG's property manager and other agencies indicate that the blaze, while contained, still took until late in the afternoon to completely extinguish.
In the early afternoon, the fire caused traffic to be rerouted from Yacht Haven Grande to the federal building on the St. Thomas waterfront. Yacht Haven's marina crew and security team were the first to provide emergency services, according to a statement from YHG property manager Charlie Irons, but because of the "nature of the fire," they could not extinguish it.
Called to the scene to help were personnel from the West Indian Co. Ltd. along with firefighters were Norwegian Cruise Lines and the V.I. Fire Service.
According to a news release from Government house, the U.S. Coast Guard helped tow the yacht to a more remote location where crews continued to contain the blaze. Fire Services also worked to help eliminate the heavy smoke in the area, which was caused by the burning of fiberglass and other materials aboard the yacht.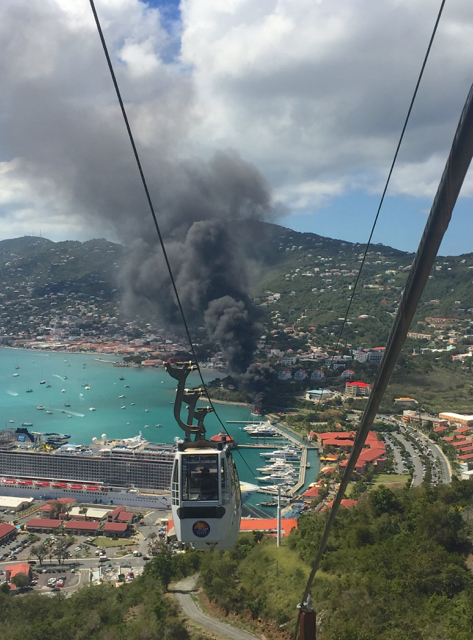 Responding to reports of the incident from the annual SeaTrade Cruise Conference in Florida, WICO President Joseph Boschulte praised the efforts of all emergency responders in handling the situation.
"My staff kept me abreast of the situation from the first reports of the fire to its conclusion," Boschulte said in a statement. "I am especially pleased at the reports detailing the always excellent cooperation from responding entities, the Virgin Islands Fire Department, Virgin Islands Police Department, the fire crews from the Norwegian Escape and MSC Divina, the Yacht Haven Grande and of course the WICO staff.
We at WICO are grateful that the quick response translated into containment of the fire with no loss of life or injury, nor adverse effect on any of the cruise ships in port or residents in the area."
Boschulte continued, "We remain mindful and vigilant of the value of emergency preparedness and cooperation. Our staff is regularly trained to respond to all manner of marine emergencies and our assistance in this emergency is testament to this commitment."