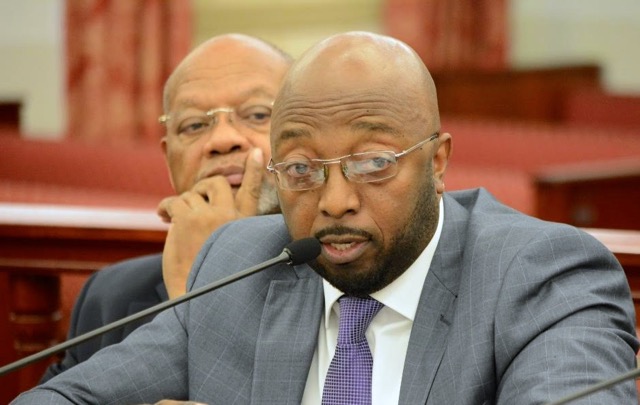 The Legislature approved legislation from Gov. Kenneth Mapp on Friday to allow the government to pay temporarily officials on loan from the federal government at higher than usual salaries, matching their federal pay, without automatically raising salaries of V.I. officials whose pay is tied to commissioners' pay levels.
Administration officials testified the measure [Bill 31-0317] would make it easier to entice highly experienced federal officials to come serve in the territory. And it would avoid automatically raising the pay of the V.I. inspector general and V.I. National Guard adjutant general, whose pay is tied to that of the highest-paid cabinet member.
Senators noted it appears to be connected to the hiring of Dr. Michelle Davis, Mapp's nominee for commissioner of the Health Department, who is regional health administrator for the U.S. Health and Human Services Department's New York Office and is on loan to the territory for two years. (See Related Links below)
Personnel Director Milton Potter said the bill was "more proactive" and designed to allow the territory to take maximum advantage of a federal program; the Intergovernmental Personnel Act Mobility Program. The IPA allows for employees from the federal government to work in local or state agencies for up to two years with an option to extend their tenure for two more.
The positions are often those that require a specialized skill, Potter said. He said the government has used the program before, including with a past Police commissioner. The goal is to help develop local capacity under the mentorship of highly qualified, highly skilled federal officials, he said.
Attorney General Claude Walker said he is hoping to get some federal prosecutors through the program to temporarily supplement with prosecutors the Department of Justice, which is short-staffed.
Pressed on whether the bill was needed specifically to pay Davies more, Walker said it could bring in special expertise "not in this particular situation but moving forward." He pointed out that the government can bring in officials now, paying them more, but under current law, the salaries of the inspector general and adjutant general would automatically increase too, "which would just be a further expense."
Sen. Almando "Rocky" Liburd asked Potter, Walker and the other testifiers if any of them were familiar with the negotiations for Davies' contract. They all testified they were not familiar.
"I have heard the salary that was negotiated for this particular person is $159,000," Sen. Kurt Vialet said, adding that with benefits, he believed the total cost would be more than $200,000 annually for Davies.
"I haven't heard a salary, senator" Potter said.
Senate President Neville James said the bill did not really affect the Davies hire or her salary.
"The sole issue before us was, 'Are we going to impact the salaries if a cabinet member is hired at a higher salary?'"
The bill was approved by a 9-4 vote. Voting for the measure were James, Liburd, Vialet, Sens. Jean Forde, Nereida "Nellie" Rivera-O'Reilly, Novelle Francis, Kenneth Gittens, Clifford Graham and Sammuel Sanes. Voting no were Sens. Justin Harrigan, Myron Jackson, Positive Nelson, Tregenza Roach and Janette Millin Young. Sen. Marvin Blyden was absent. (Nelson legally changed his first name to his longtime nickname "Positive" in January of this year.)