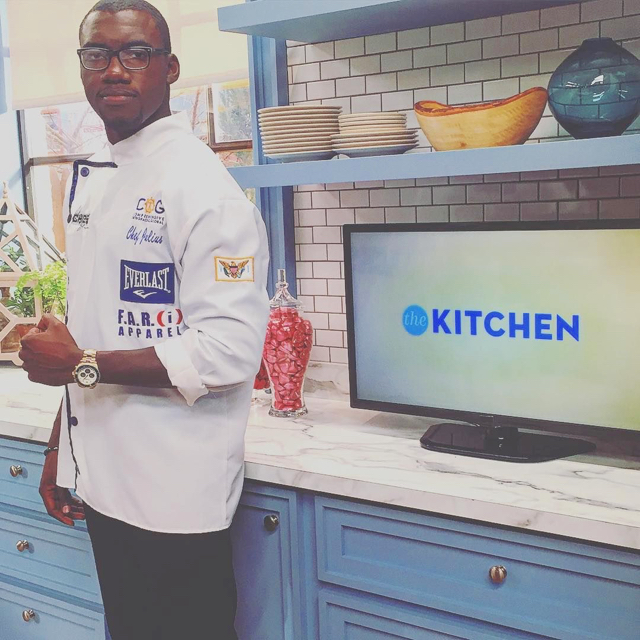 Food Network's "The Kitchen," with hosts Katie Lee, Sunny Anderson, Jeff Maduro and Marcella Valladolid, will show viewers how to beat the cold this weekend with some tropical cooking, including a Caribbean coconut shrimp with mango sauce recipe whipped up by local chef and champion boxer Julius Jackson.
The show premieres Saturday at noon local time and also features recipes for pork kebabs with baked pineapple rice. Jackson said he was booked for the spot after meeting producer Blake Swerdloff during a shoot on island for "Beach Bites," another show featuring host Katie Lee.
"The experience was so great," Jackson said recently. "It was a bit nerve wracking with the 15 huge cameras and the other super star chefs looking on, but I was in my element. It flowed very smoothly and we ended up doing it all in one take."
Jackson has caught the world's attention with his pugilistic prowess, but the 168-pound contender has earned his fighting nickname, "The Chef." He graduated from the Florida Culinary Institute in 2008, the same year he represented the territory as a boxer in the Beijing Olympics. He has worked at the Marriott on St. Thomas and in West Palm Beach, Florida, then was head chef at Fat Turtles before shifting his full focus to his pursuit of a boxing title.
But he still works in the kitchen, and has partnered with his friend Shelly Berry in a catering firm. For his Food Network appearance Saturday, Jackson cooked up a shrimp recipe borrowed from Berry.
"It's the best coconut shrimp you'll ever eat," Jackson said. "She's been making it for years, and I've been making them with her for about two years now. Our guests always love them and I picked it for the show because they are so good and I think the recipe really gives a warm Caribbean feel, which is what this episode, 'A Winter Escape,' is all about."
As the show's host, Lee was the first person on set to taste the dish when it was finished, Jackson said.
"Her eyes lit up," he said. "They all loved the flavor and the presentation and they invited me to do another segment after the show, which was really exciting."
You might say it was a knockout.