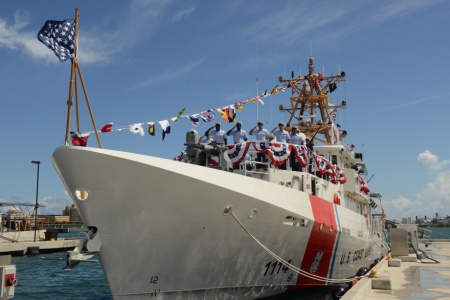 The Coast Guard Cutter Joseph Napier was commissioned into service Friday afternoon during a ceremony at U.S. Coast Guard Sector San Juan, Puerto Rico.
According to a news release from the Coast Guard, Napier is the 15th Fast Response Cutter (FRC) to be commissioned in the Coast Guard and the third to be homeported in Puerto Rico, where it will patrol the Caribbean, including the waters of the U.S. Virgin Islands.
"I am very excited about the commissioning of the Coast Guard Cutter Joseph Napier," said Rear Adm. Scott Buschman, commander of the 7th Coast Guard District. "The Joseph Napier is the third addition to the fleet patrolling the waters off Puerto Rico and elsewhere in the Caribbean Basin."
"It is a tremendous honor and privilege to command one of the finest ships the Coast Guard has ever had," said Lt. Ryan Newmeyer, commanding officer of the U.S. Coast Guard Cutter Joseph Napier. "The Joseph Napier will be a tremendous asset to Coast Guard efforts to combat transnational organized crime in the Eastern Caribbean as well as a sentinel for all those who take to the sea. My crew and I are excited to join the active Coast Guard Fleet and make our mark on the distinguished 225 year history of the Coast Guard."
The Sentinel Class Fast Response Cutters are designed to conduct maritime drug interdiction, alien migrant interdiction, search and rescue, national defense, homeland security, living marine resource protection and other Coast Guard missions, according to Friday's news release. This class of patrol boat is capable of deploying independently to execute Coast Guard missions and prevent potential threats from approaching U.S. shores and offers vastly improved capabilities over the aging 110-foot Island class patrol boats it replaces.
The FRCs are 154-feet long with a beam of 25 feet and they can reach a maximum sustained speed of 28 knots. They are armed with a stabilized 25mm machine-gun mount and four crew served with .50-caliber machine guns.
Each FRC is named for an enlisted Coast Guard hero who distinguished him or herself in the line of duty. This vessel is named after Joseph Napier. On Oct. 10, 1877, Capt. Joseph A. Napier commanded a rescue mission for which he was awarded the first Gold Lifesaving Medal. His actions leading to the award reads in summary: "for the daring gallantry he displayed in rescuing the crew of the schooner D. G. Williams, near the harbor of Saint Joseph, Michigan on the 10th of October 1877. The schooner lay stranded during a heavy gale on the outer bar, with the sea breaking over her, and her unfortunate crew of six men up in the rigging for safety. Capt. Napier got together three volunteers, commandeered a boat, and pushed out for the wreck. At the first attempt, the boat was capsized in the breakers.On the second try, he reached the wreck and returned with two of the sailors. The third trip the boat was completely filled with water by the sea breaking over it, but was bailed, and again reached the vessel, bearing off two men. At the fourth attempt Capt. Napier and his three assistants were thrown out of the boat by a furious surge and one of his legs was badly hurt. One of the men swam ashore and another got a line flung to him from the wreck and was taken aboard. Capt. Napier and the other man, clinging to the boat, succeeded in righting and bringing it alongside the schooner. They then took off the two remaining men of her crew, together with the man taken on board, and regained the shore in safety."