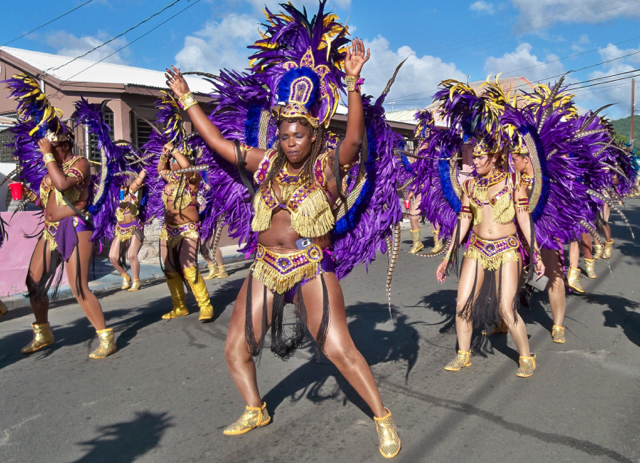 The women's costumes glittered and tantalized, the music was blared and got people moving, and the smiling faces were as bright as the brilliant sunshine as the St Croix Carnival Adult parade rolled through Frederiksted Saturday.
For the Crucian Christmas Carnival's Adult Parade, people let loose and become someone else for a while, having fun dressed in sexy and glamorous costumes or even in drag.
The costumes were beautifully color coordinated in jewel shades of green, teal, pinks, and purples. The two-piece outfits women wore were encrusted with gems, feathers, and sequins that glittered in the bright sun light.
One young man was in full body paint depicting a lizard, complete with contact lenses that made his pupils horizontal slits.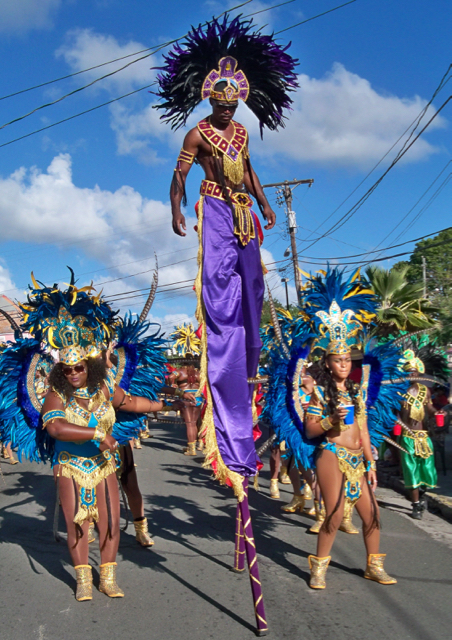 The Gentlemen of Jones troupe was out decked out as playing cards, with a theme "Royal Flush." Barbara Anne Williams, marching with the Gentlemen of Jones, said being in the parade is a tradition for her. Margaret Miller, also in the troupe, said it didn't feel right to her if she didn't join a troupe and have fun.
The Caribbean Revelers, formerly the Trini Revelers, were plain and simple, attired in yellow T-shirts, playing recycled home-made instruments. The M2 Fitness troupe was in camouflage athletic-wear, flexing muscles, and doing fitness dance moves down the parade route.
The ARMAPAVIE Sports Club sponsored a float with cabazudos – big heads – of David Hamilton Jackson, Juan Francisco Luis and Sen. Lorraine Berry. The big heads were created by Puerto Rican plastic-artist Pedro Adorno.
The number of troupes and floats appeared to be down from past years. Melody Rames, master of ceremonies for the parade and a member of the festival committee, said there were around 30 entrants.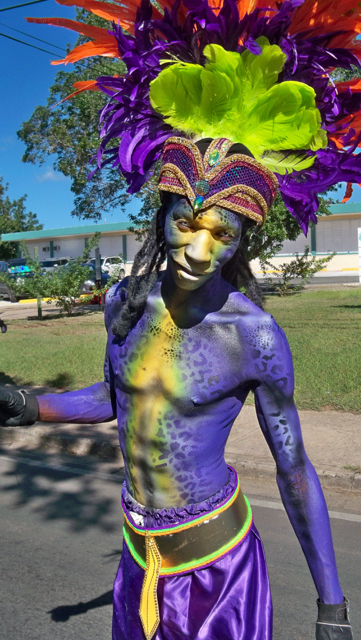 The parade organization left many community members exasperated. A common comment heard along the parade route was, "This is ridiculous."
The parade was scheduled to start at 10 a.m., but islanders know that the scheduled start time is always overly optimistic. But what caused much dismay in the community was "the big gap." Around 1 p.m. one float, one troupe and some mocko jumbies did the parade route. Then for more than an hour and a half the parade route was empty.
Rames said contrary to what was observed by many, "There is no delay." It was not the committee's responsibility to make participants move at a certain pace, she said. "If you tell them to go and they don't want to go, they won't go."
But as a resident along the parade route, Vankesa Isaac, said, "At the end of the day everyone had a good time." And it was true that many along the route appeared to have a good time whether there was a parade going by or not.
Still, there were those like Lillian Rodreguez, who was sitting with her family looking at an empty street at 3 p.m. and said, "This is ridiculous. At this time the street is usually packed full." Around 3:30 the parade began to move.
Roberto James, who has chaired four parades, was not directly critical of this year's organizers, but he said. "A parade is not like rain, it doesn't just happen. It has to be planned and organized," He added it is about the entire community and not making people wait.