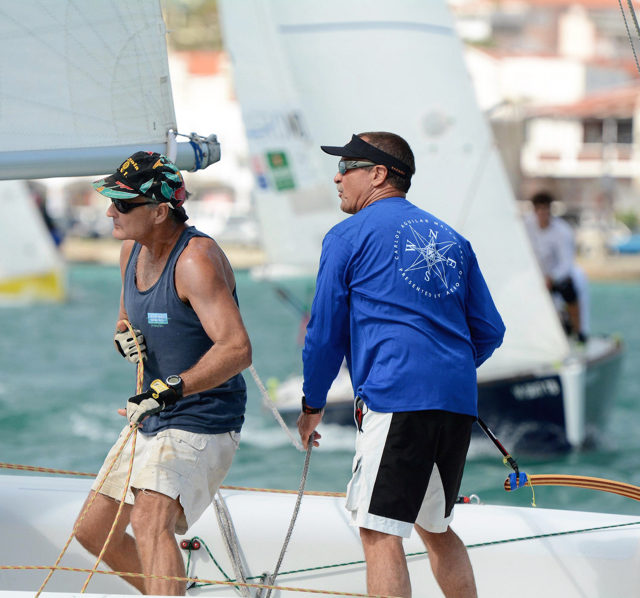 The USVI's Taylor Canfield remains undefeated after the second day of racing in the seventh Carlos Aguilar Match Race, presented by AeroMD.
Canfield, currently ranked No. 2 in the world in the open match-race rankings, finished with 12 wins and no losses at the conclusion of Saturday;s sailing.
Behind him, competitors jostled for position in a tight fight for second place. The USA's Stephanie Roble, USVI's Peter Holmberg and USA's Dave Dellenbaugh each ended the day with 8 wins apiece, according to the event organizers.
"We have a great team and great crew work. That's a huge help at this level of competition," said Roble, the top woman match racer in the U.S. and No. 4 ranked in the world. Roble fell from first to second place Saturday morning after losing to Canfield in their initial matchup of the regatta. "Sailing against top people like Taylor means walking away with a new lesson learned every time. That's what makes this event great. It's a good way to stay in the game when it's a low point in the match racing season."
Roble's crew members are Maggie Shea, Sally Barkow, Eric Chapman and Graceann Nicolosi.
Holmberg, the USVI's Olympic medalist and former America's Cup skipper, won four matches and lost only to Canfield in the second round robin. This moved Holmberg's all-V.I. team from fifth to third.
Meanwhile, the USA's Dave Dellenbaugh, a four-time America's Cup sailor and three-time U.S. Match Racing Champion, strengthened his fourth-place position on the scoreboard with four wins and no loses Saturday. Like Holmberg, Dellenbaugh, is within easy striking distance of second place.
"Even though I've raced in this event, it doesn't necessarily help because the conditions are so shifty. You just have to wait and see what you get weather-wise," said Dellenbaugh, who is racing with daughter Becca Dellenbaugh, Amanda Callahan and Janel Zarkowsky. "I haven't done too much match racing recently, so it's great to get back in the groove and this is a fun atmosphere to do it."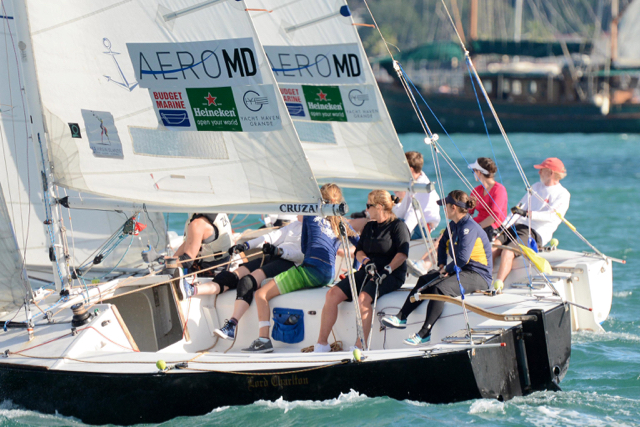 Like the eight other international skippers competing, Dellenbaugh is joined by a member of St. Thomas' Antilles School Sailing Team as crew. According to race organizers, this is a signature feature of the CAMR and a practice being copied at match race events elsewhere around the globe. It's an incredible hands-on way to prepare these talented members of St. Thomas' Antilles School Sailing Team for college racing.
"I sailed with Dave (Dellenbaugh) in this regatta twice before, so the communication on the boat is smooth and easy," said Thomas Walden, a senior at Antilles. "Also, my understanding of match racing is better now so I don't have to look around to learn so much and can focus on sailing the boat and really helping the team."
Dellenbaugh was also one of the skippers to mentor a team of students from the Addelita Cancryn Junior High School, who participated in the day's CAMR Youth Regatta. Each of these students had completed a learn-to-swim program that is part of the school's aquatics program.
"I'm seldom on a boat with someone who has never been on a boat before. It's really fun to see what that very beginning experience is like," Dellenbaugh said.
Dellenbaugh gave each of the three youth sailors on his boat a chance to steer as well as work the main and jib sheets during the three fleet races that comprised the CAMR Youth Regatta.
Eighth grader Majestik Petersen looked like a natural as she held the tiller and tacked, the news release said.
"I like to steer. It's fun to be in control," Petersen said.
Fellow eighth grader Marvin Monsanto also got a chance to take the tiller.
"It was awesome. Very cool," said Monsanto, who said what he liked best about participating in the CAMR Youth Regatta was "everything."
Racing concludes Sunday.
Match racing pits one identical boat against another on a short course up and down the Charlotte Amalie waterfront. On-the-water umpires make instant calls and enforce the rules. Spectators can watch the racing under tented bleacher seating, where there is live narration. Racing starts at 9 a.m.
The awards ceremony will take place in the early afternoon at Yacht Haven Grande.
The CAMR is an International Sailing Federation-provisional Grade Two event. The event will be raced in IC-24s, a one-design modification of a J/24.
The Virgin Islands Sailing Association (VISA) is the organizing authority for the CAMR, named for the late Carlos Aguilar, who was an avid sailor and match racer.
More information and live scoring are online at www.carlosmatchrace.com.
Cumulative Standings After Day Two
1. Taylor Canfield, ISV, 12-0
2. Stephanie Roble, USA, 8-3
3. Peter Holmberg, ISV, 8-5
4. Dave Dellenbaugh, USA, 8-4
5. Dave Perry, USA, 7-4
6. David Storrs, USA, 5-8
7. Chris Poole, USA, 3.5-7
8. Juliana Senfft, BRA, 3-9
9. Elizabeth Shaw, CAN, 1-13