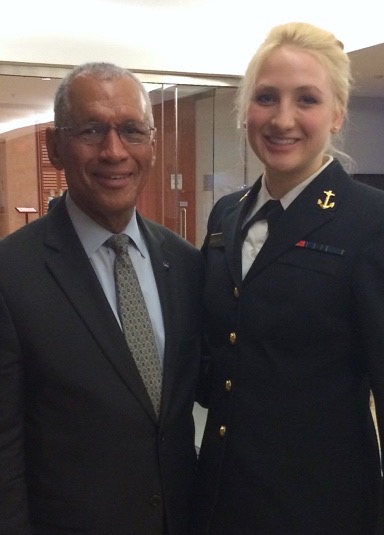 Midshipman Third Class Portia Norkaitis of St. Thomas, an honor student at the U.S. Naval Academy, has been selected to be part of the USNA Operation Information program, known as OPINFO, which is offered to a select few midshipmen with the highest roll grades and military aptitude ranking among their peers, according to her family in a letter sent Tuesday to local media.
According to the academy's website, OPINFO is scheduled in conjunction with the Thanksgiving leave period. It is one of the academy's most important outreach programs. Midshipmen who participate are granted extra leave to visit their local high schools and make other appearances to promote the Naval Academy. Members of the upper three classes take part.
Norkaitis is majoring in astrophysics at the academy, and is a member of the USNA Women's Boxing Club, ranked third in the nation for her weight class. She also is a member of the Women's Glee Club and acapella group The Riveters.
She takes part in a variety of other activities, including Mids4Kids, which works with underprivileged junior high schoolers, the 911 Run-to-Remember, donates to academy blood drives and joins other midshipmen visiting veterans in neighboring hospitals.
Norkaitis was nominated to the academy in 2014 by Vice President Joseph R. Biden. Other Virgin Islanders at the academy in Annapolis, Md., are Bryson Mays, Alejandro Perez and Kobe Sutton, all of St. Croix.
Norkaitis was a student at All Saints Cathedral School until 11th grade, and graduated salutatorian from the IB World Program at the Peter Gruber International Academy. She was captain of the St. Thomas Stingrays Swim Team, a member of the Venture Scout of Troop 20, fellow thespian at Pistarckle Theatre and junior commissioner of Tourism.
Her ultimate goal is to become the Virgin Islands delegate to Congress.
Upon completion of the Naval Academy's four-year program, each midshipman earns a bachelor's of science degree and is commissioned as either a second lieutenant in the U.S. Marine Corps or an ensign in the U.S. Navy.
Norkaitis will return to the territory during the Thanksgiving holiday, and as an OPINFO representative will visit with students from the Charlotte Amalie High School JROTC, the St. Croix Central High School JROTC, Good Hope Country Day School, Montessori School, and Peter Gruber International Academy, with some students from St. John's Gifft Hill School.
She will also be guest speaker at both Addelita Cancryn Junior High School and John H Woodson Junior High School.