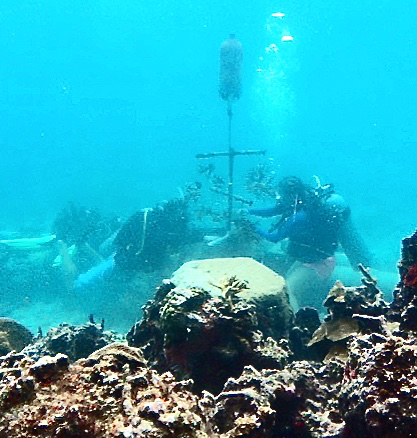 The seventh annual St. Thomas Reef Fest brought equal elements of wonder, joy and environmental awareness to those who braved the elements to explore their curiosity about local underwater life.
Despite Saturday's rainfall, folks at Coral World Ocean Park bounded around the park studded with no end of educational exhibits ranging from depictions of coral bleaching damage to water cycles as illustrated by Lockhart Elementary School students, and occasional shows by Omar, the 11-year-old (almost) talking sea lion.
Coral World general manager Trudie Prior's mission statement said the park's goal is "to bring you close to the inhabitants of the magical undersea world that surrounds the Virgin Islands and the variety of plant life that grows on our hillsides and in our lagoons."
The Reef Fest is free and sponsored by UVI's Sea Grant Marine Outreach program Virgin Islands Marine Advisory Service and Blue Flag USVI. Valerie Peters, USVI Blue Flag coordinator and Coral World marketing director, said the event is "a day to learn about the bond between humans and the reef."
It's no secret that human impact on coral reefs is significant. Coral reefs are dying around the world. In particular, coral mining, pollution – both organic and non-organic – overfishing and blast fishing are serious threats to these ecosystems. Coral reefs also face danger from diseases.
Saturday folks learned about methods employed in the territory to counteract the reef threats. Exhibits from the government Fish and Wildlife Service drew "Oohs" and "Aahs" from the youngsters examining a shark jaw. Stopher Slade of The Nature Conservancy held people captive in one of the most compelling shows of the day, watching a display in the underwater aquarium of what is called a coral "tree"constructed of PVC pipe, complete with divers.
The divers harvest young fragments of Elkhorn coral and then break off the ends of the main branches. Those ends are glued to the tree with epoxy. They are in turn transferred to the hard bottoms of natural reefs in the area to boost coral growth.
Slade said the pieces of coral are rescued from the ocean bottom.
"They are called 'fragments of opportunity.'"
He said they would not grown on their own on the ocean floor.
"There are 200 trees in the territory," he said. The process was initiated in the late 1990's. Slade said it has been practiced here since 2009, under the auspices of The Nature Conservancy.
The survival rate of coral from the PVC nurseries is more than 97 percent, Slade said. The coral grows fast, more than an inch per month.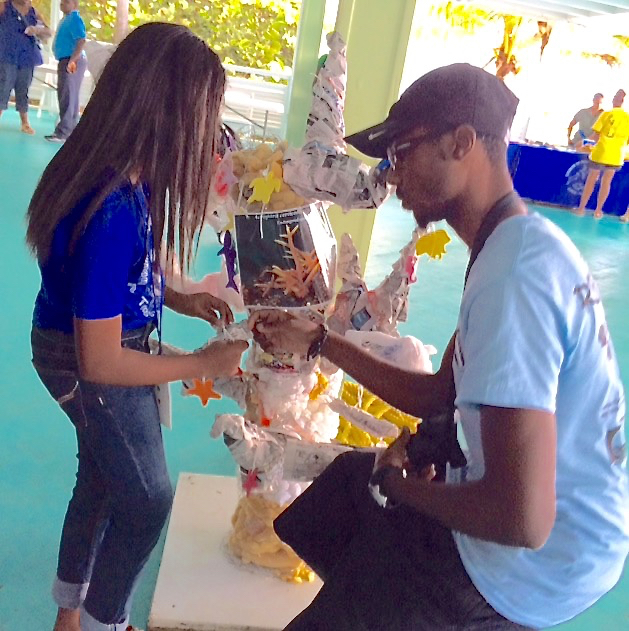 Upstairs there was another type coral tree, one constructed from chicken wire and tissue paper, depicting Acropora cervicornis, or strayhorn coral. It was built by VIMAS research assistant Jarvon Stout to show the effects of bleaching. He had decorated it with cutouts of sea creatures that would suffer from the bleaching. It got the kids' attention, and the VIMAS students at their exhibit were kept busy with questions, explaining how carelessness can create a lot of the damage,
"People tying their boats close to the coral and bumping against it, anchor scraping, is one example," he explained.
A coral is a sea animal more fragile than many. The health of coral reefs is impacted by pollution in many forms and unchecked contaminants.
Students from Lockhart Elementary School, led by Tetyana Hayes, created a water-cycle display, complete with cotton clouds, showing the elements that affect a stream as it becomes liquid in clouds and runs through assorted pitfalls resulting in pollution in runoff which can affect the reefs.
"They are so proud," Tetyana said, as the students showed off their work.
Tetyana, who is from Ukraine, teaches English as a second language. She speaks with no accent at all, after living in the U.S. for 11 years. She said she and her husband, a U.S. engineer she met in the Ukraine where he was working, first had to communicate through a translator.
Students, older folks, visitors and little kiddies wandered throughout the fest, stopping to examine and question the exhibitors.
Several encounters with marine critters highlighted the day. From the Shark Shallows to the stingray lagoon, where UVI students held forth on the creatures' habits and habitats.
One of the most traveled pathways was Iguana Alley, which was overrun with the clumsy and endearing (to some) beasts that are impervious to humans. They know their turf.
Shortly after noon, all educational endeavor came to an abrupt halt as the annual Reef Fest Rap ruled. It was the moment the youngsters had awaited.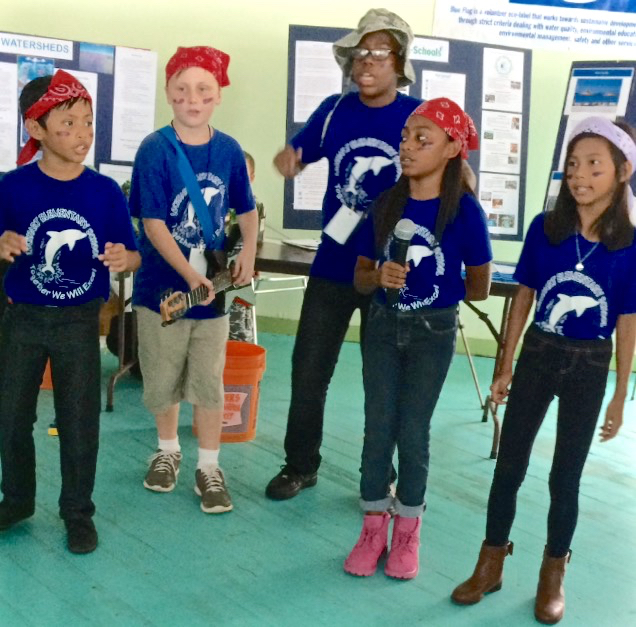 Groups from several schools took the stage, all alternately giggly and serious. First came Lockhart School's "Trash Busters," led by teacher Tetyana. The five students rapped their little lungs out, providing spirit far over professionalism. Lining up they pleaded with the audience to not litter.
"We will save you, save you," they declared, with one little boy dropping to his knees, reminiscent of the old Stones, and throwing his head back, "Save you, save you," he concluded to rounds of applause.
Students circled the performers, giving all the support anyone could want. After the "Trash Busters," a Charlotte Amalie High School group of six, "Straight Outta CAHS," strutted their stuff. As though they'd been at it for years, they rapped, danced, and pleaded with their audience to care.
"Come through like a chief, talk about the reef," they commanded to rounds of applause and cheers. The six students handily won the contest.
Speaking after the performance, their instructor Vernon Callwood, marine biology teacher, smiling ear to ear, said the boys had put it together in less than two weeks, "one week to write it and one week to rehearse."
UVI Marine Advisory Service Coordinator Howard Forbes, who managed the event, said the unit's goal is to install an Adopt-A-Beach program in all local schools.
"It won't be possible for all beaches," he said, "But for the accessible ones it will be a great program to enforce responsibility and respect for our environment," he said.
It's an ambitious program, but it is doable. Forbes said they have been working on it for about two months.