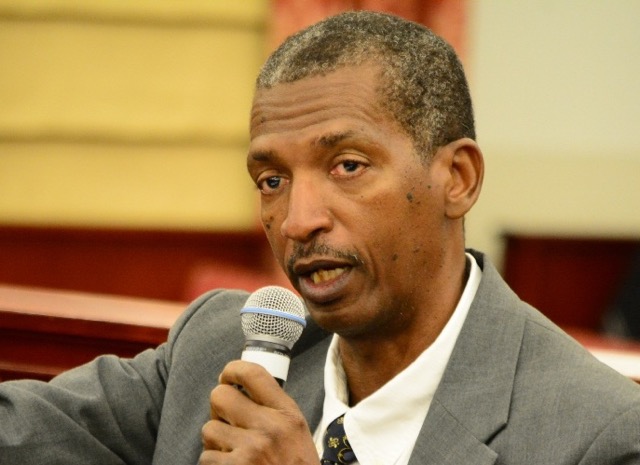 After borrowing to pay tens of millions of dollars in past-due utility bills last year, the USVI's two hospitals and central government promptly racked up more than $45 million in new delinquent bills, Water and Power Authority officials told the Senate this week.
While the government-owned WAPA is self-funded, it appears in front of the Senate Finance Committee every year to discuss its budget. On Tuesday, WAPA's director of distribution and transmission, Clinton Hedrington Jr., recalled the Legislature approved new bond debt, partly to pay $12 million in overdue utility bills owed by the government-owned Gov. Juan F. Luis Hospital, Schneider Regional Medical Center and V.I. Bureau of Corrections.
"However, even with this cash infusion, government receivables continue to climb and are currently at their all-time high," Hedrington said.
Juan Luis Hospital has not paid a utility bill itself since 2011, relying completely on emergency appropriations by the Legislature, he said. And since the government paid its bills last year, it has already accumulated $9.3 million in unpaid electric bills and $1.5 million in unpaid water bills – just through August, Hedrington said.
Schneider Medical Center owes $2.5 million for water and $5.3 million for electric bills through August, he added, saying both have two more months of unpaid bills since then.
The central government owes another $27.2 million for electricity and water, with $17.7 million of that just for streetlights, he said. That means WAPA is waiting on more than $45 million in past-due payments.
Both hospitals are chronically underfunded, with a mandate to serve all who come but not enough funding to do so. Both have seemingly made a strategic decision that they can safely not pay for utilities because it would be inhumane to cut off power to a hospital.
The streetlights used to be assessed to the government, but in 2002, the Legislature required the government-owned WAPA to provide it. No funding came with the requirement, and the PSC then allowed WAPA to put a surcharge on electric bills to pay for it.
But in 2005, the Legislature eliminated the surcharge and allocated 2 percent of property taxes for the purpose, increasing it to 4 percent in 2009, Hedrington said. But property taxes were not collected for a number of years, and when they were, the portion devoted to streetlights was far below the actual cost of the service.
"To maintain street lighting in the territory requires the authority to use other operating funds to replace, repair and maintain the territory's streetlights. This cannot continue," Hedrington said. He asked the Legislature to repeal the changes to the law and again allow WAPA to seek a surcharge to cover the cost of power.
Senators did not discuss that request.
Discussing WAPA's budget, Hedrington said the utility's electrical side projects billing of $288.1 million, down from $317.2 million in Fiscal Year 2015. The cost of fuel is projected at $153.6 million, down from $207.3 million in FY15. The system had a $4.4 million loss for 2015, he said.
The water system projects revenues of $31.2 million, down from $35.5 million in FY15. It made $2.4 million in net income in 2015 and projects $10.2 million in net income for FY16.
The Finance Committee also heard testimony on a bill sponsored by Sen. Nereida "Nellie" Rivera-O'Reilly to reduce the territory's fuel tax from 14 cents to seven cents.
Public Works Commissioner Gustav James testified the funding would be better spent on roads, as originally intended. James said WAPA had other ways to finance new generation, ultimately through its ratepayers, while Public Works did not have a way to generate the funding.
Hedrington said changing the law mid-course would confirm bondholder fears that the Legislature might change the law and make the funding unavailable. This would increase interest rates and force ratepayers to pay more for no good reason, he said. Ultimately, the bill was held in committee.
The committee also voted to hold a bill from Sen. Terrence "Positive" Nelson to authorize $250 million in new borrowing, with spending dedicated to a grab-bag assortment of public spending projects.
Finance Commissioner Valdamier Collens said it was laudable, but the territory already had a budget shortfall nearing $100 million, plus hundreds of millions more in other obligations, from consent decrees to mandated closure of the territory's landfills.
"The first priority, we believe, must be meeting the government's legal and financial obligations, approved by this body, through either working capital financing or restructuring of debt to proved budgetary savings, reform our fiscal policies, and stimulate economic growth that promotes tax revenue expansion," Collens said.
Both bills were held without opposition. Committee members present were Nelson, Sens. Marvin Blyden, Clifford Graham, Tregenza Roach and Sammuel Sanes. Sen. Myron Jackson was absent. Non-committee member Rivera-O'Reilly was also present.