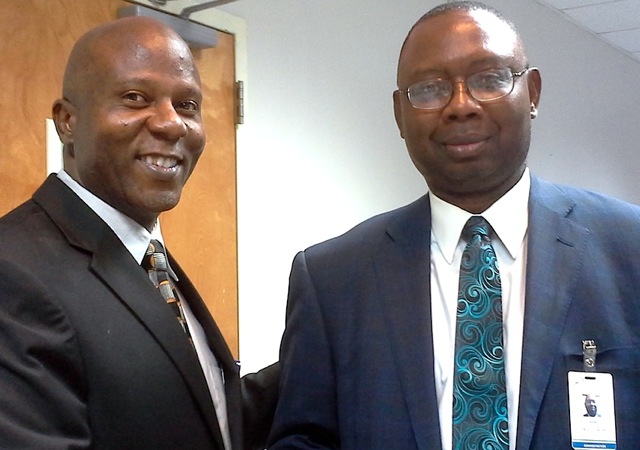 Amid faintly good financial news, Dr. Kendall Griffith, chief executive officer of the Gov. Juan F. Luis Hospital, announced his resignation – effective midnight Tuesday – during a board meeting Tuesday evening.
Although his contract was up at the October board meeting, Griffith said he would stay until December to accommodate the search for a new chief executive, but said Tuesday his patients were "clamoring" for his return to private practice.
Acting Board Chairman Troy de Chabert-Schuster said, "Dr. Griffith decided he would like to return to his full time medical practice," adding, "I want to make it very clear to the media that it was not anything disciplinary."
Griffith thanked the board members, his staff and family for their support during his tenure.
After serving as interim CEO from January 2013 to September 2014, Griffith held the top job through a difficult year.
"It has made me a bigger, stronger and wiser person. I can face anything in the world," Griffith said during his parting comments.
The cardiologist left his practice and position as director of the V.I. Cardiac Center to administer St. Croix's only hospital at a time when millions of dollars were lost yearly through uncompensated patient care, mounting debt and, in 2014, the federal Center for Medicare and Medicaid threatened decertification and the loss of millions more in insurance reimbursements.
Praising Griffith's fortitude, board member Joyce Heyliger said, "I have truly seen him fight. It was a challenge when he came into the position."
Philip Arcidi, board treasurer, commended Griffith on his leadership, the ability to find solutions and for creating a competent executive team.
"He is leaving the hospital a dramatically better place," Arcidi said.
While it may not seem better, JFL's year-end bottom line is a loss of $4.2 million. Tim Lessing, chief financial officer, reported that expenses to revenue improved – costs were 133 percent of revenue in September compared to August's 150 percent and 226 percent in previous months.
JFL's year-end $4.2 million loss is the same as last year's bottom line, Lessing said, but the hospital had $13 million more in government appropriations in 2014.
The V.I. Government promised $7 million to help the hospital implement a systems improvement agreement to correct deficiencies cited by CMS. Lessing said $6.2 million has been expended and the last $757,000 will be requested within the next days.
Taking over for Griffith, at least temporarily, will be JFL's chief operating officer, Ken Oranefo Okolo. Hired in January, Okolo is board certified in health care quality management and held senior management positions in New York, Massachusetts and Tennessee before relocating to St. Croix.
"This hospital is going to be known as one of the best in the Caribbean," Okolo said.
De Chabert-Schuster told Okolo the board has confidence in his abilities and, as long as he "acts lawfully," he will have the board's "full, unwavering" support.
Last month, former board chairman Dr. Anthony Ricketts resigned and the board Tuesday elected a new slate of officers:
-chairman – de Chabert-Schuster;
-vice chairwoman – Vera Falu;
-secretary – Kimberly Jones;
-and treasurer – Arcidi.
The board also voted to approve appointments for two temporary physicians, one emergency department physician and three medical staff reappointments.
All five board members were present – Jones and Arcidi by phone.