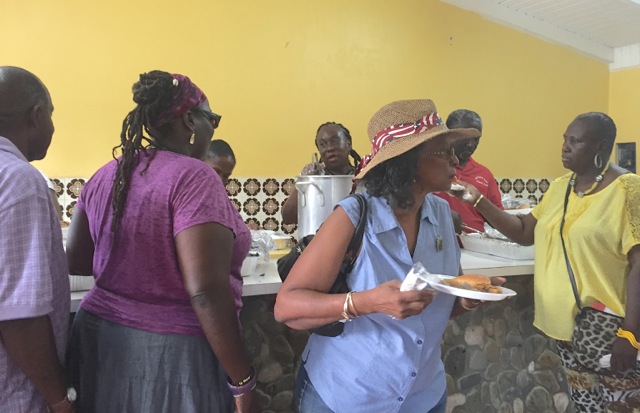 Raymond Williams, president of the Grove Place Action Committee, pulled no punches during this year's Liberty Day Celebrations, challenging the tradition of serving free roast beef and bread to commemorate the legacy of D. Hamilton Jackson.
"If it was left up to me, individually, we'd prepare none, simply because the significance of this day is not about bull," said Williams, who has been working for 30 years with the committee overseeing the celebration.
During a midterm election year, the committee purchases 400 pounds of top round beef for the event. In a full term election year, over 600 pounds of beef are prepared and served to those who attend. The tradition is so ingrained that the Nov. 1 holiday is known as "Liberty Day," "D. Hamilton Jackson Day"and "Bull and Bread Day" interchangeably. However, to reduce the historic occasion to a single serving of beef and bread, insisted Williams, was an "abomination" and a disservice to the man that many call "Black Moses."
A century ago, under the large baobab tree on the edge of the Grove Place Park named in his honour, Jackson posted the first printing of the territory's first local newspaper. According to local legend, a bull was slaughtered and served with bread to the crowd in celebration.
Under Danish law, independent newspapers throughout the territories were prohibited and all publications were strictly censored. In a bold move, Jackson traveled to Denmark to challenge the law himself.
The posting of The Herald on Nov. 1, 1915, marked not only successful repeal of that law, but the beginning of a free and independent press throughout the territory. In his time, Jackson was a newspaper publisher and labor leader while the territory was under Danish rule, and he fought for the rights of citizenship as new U.S. territory.
Recalling Jackson's legacy, Delegate Stacey Plaskett said, "We are gathered here to join our minds in the fight that must still go on."
It was a sentiment echoed by Lt. Gov. Osbert Potter, who also attended the event. Though both the press and labor unions today owe much to Jackson's work, there was still much more to be done, insisted Potter.
"The effort and the work never ends," Potter reminded the crowd of about 150 people. "It is still necessary to fight."