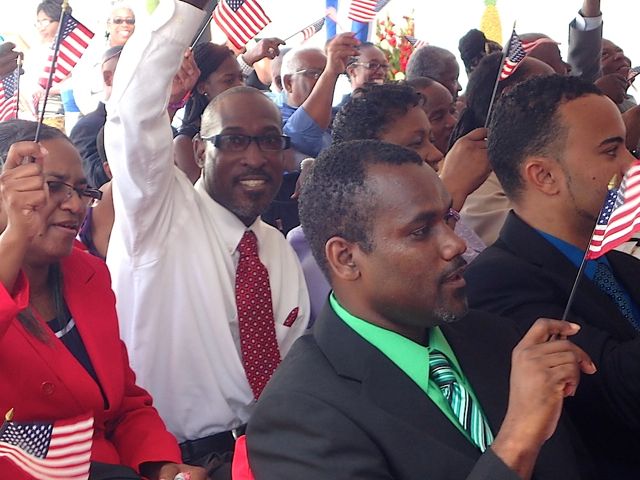 Fifty-five St. Croix residents took the Oath of Allegiance to the United States of America at a ceremony Wednesday morning at the Salt River National Park Visitor Center.
U.S. District Court Judge Wilma Lewis administered the oath as friends and family watched proudly in the standing-room-only courtyard.
"You are now part of this great nation," Lewis said.
The new voters cheered and waved U.S. flags during the ceremony and one woman wept quietly. The program included remarks by Lewis, National Park Service superintendent Joel Tutein, Elizabeth Centeno from Delegate Stacey Plaskett's office, a videotaped message from President Barak Obama and several patriotic songs.
The new citizens originated from Argentina, Chile, the People's Republic of China, Colombia, Costa Rica, Cuba, the Dominican Republic, Ecuador, El Salvador, Haiti, Honduras, Jamaica, Mexico, Nicaragua, Panama, Peru, Spain, Taiwan, Thailand, Trinidad and Tobago, Venezuela and other countries.
The National Park Service hosted the event to commemorate its 100th anniversary.