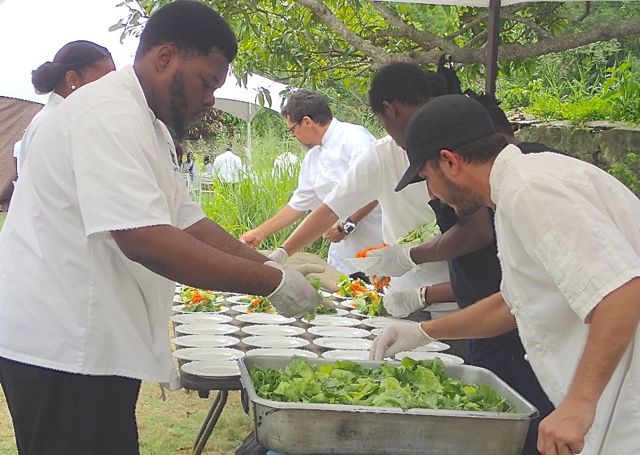 St. Croix youth sampled the first course of Dine VI, a 10-day celebration of culinary diversity to nourish local restaurants and promote tourism, on Wednesday with farm tours, food discussions and a locally grown lunch served at the Lawaetz Family Museum.
According to Food Learn organizer Sommer Sibilly-Brown, the event brought together junior and senior high school students who are interested in agriculture and cooking to engage in food and discussions including how to decrease the territory's dependence on imported food. She said 98 percent of Virgin Islands food is imported.
"We need to tap into young people for innovative ideas" to increase local production, Sibilly-Brown said.
Before their farm-to-table lunch, students visited Sejah Farms, the Frank Bermudez Lifestock Farm and the Arthur Richards Junior High's garden to observe produce and farm animals.
Lunch prepared by Chef Frank Pugliese and served by the St. Croix Educational Complex's cooking class included salad with local greens and cucumbers, lamb stew, fruit drinks and bush tea. Local flower bouquets graced each table.
During lunch, more than 300 food-related careers were discussed along with other related topics.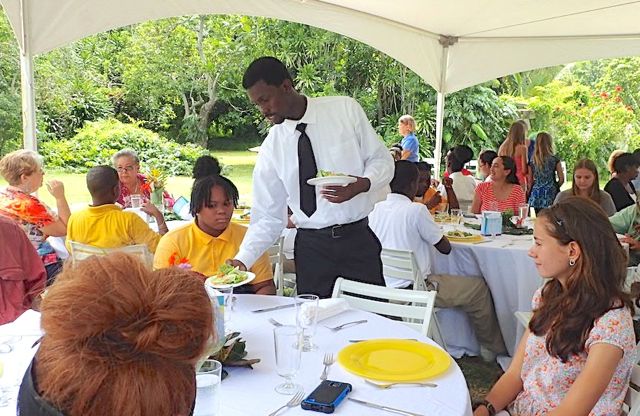 Velda Hendricks, agriculture teacher at Richards School, talked about some of the jobs to her students, including viticulture, pathology, soil science, agriculture engineering, marine biology and restaurant service.
Agriculture Commissioner Carlos Robles led discussions at another table to "plant the seed," he said, and help make the connection between what the community eats and careers in agriculture.
St. Croix Central High 10th-grader Shaneya Forbes made the connection. She said her mother is a farmer and she "appreciates food and all that farmers give to us." Forbes said she attended the lunch so she could learn more and share the information with others.
"I want to learn about agriculture more than other people know," she said. Forbes took pictures of the museum grounds to use for an art class.
Jalani Philips and his mother also attended Food Learn. He also said he has already experienced the connection between agriculture and food careers. The 10-year-old was selected to travel in July to Washington, D.C., and prepare a dish at the White House.
Philips' dish reflected cultural cuisine – hurricane salmon and lentil patties. His initiative earned him photos with the First Lady and his recipe is included in the White House's Kids State Dinner cookbook.
The Dine VI program was developed by the Tourism Department to promote culinary tourism, according to Carlotta Luis, Tourism's manager of product development and sustainable marketing.
"The mission is to promote our culinary heritage, the restaurant scene and the tourism segment," Luis said. Promoting the restaurants for 10 days will "give them a boost in the shoulder before high season," she added.
Dine VI's main course will be experienced at 35 St. Croix restaurants serving special menus until Nov. 8 at fixed prices.
For $35 or $49, gourmets and gourmands can enjoy local and Ital meals, steaks and seafood, Thai, Indian, Latin, gourmet burgers, sushi and more. Restaurants and special menus are listed at dine.vi.
Events over the next week include a food truck festival with live music on Friday in Frederiksted, gospel brunch at three locations on Sunday and the free Reef Responsible fish fry also on Sunday. Events, locations and times are listed on the website.