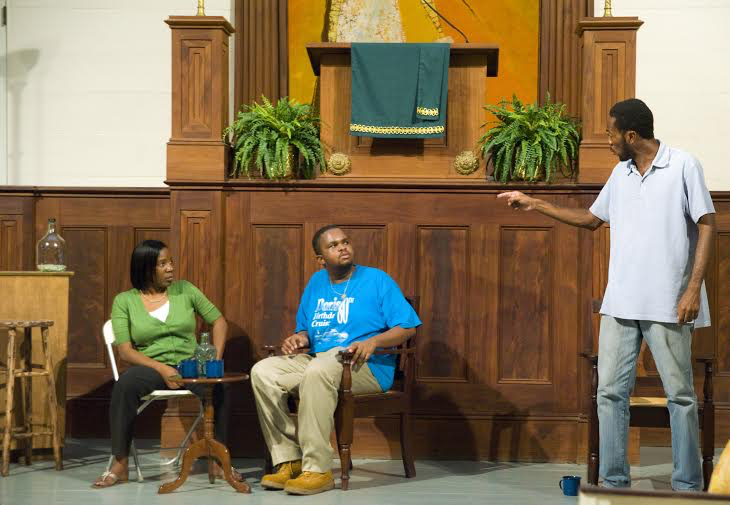 Who could possibly understand economic bondage like a widow forced to wed her dead husband's brother, serving as inheritance along with his house, his sheep and his land?
Perhaps an "illegal immigrant" whose partner threatens to expose her status and get her deported anytime she disagrees with him.
For 30 years the Family Resource Center has been trying to get Virgin Islanders to cope with endemic domestic abuse, but some still can't even admit the problem exists. This weekend the center will get some help in the rather unusual form of an original Gospel drama performed at the Reichhold Center for the Arts.
Using as her starting point the New Testament story of the Samaritan woman Jesus met at the well, local playwright Jessica Henderson explores the status of women 2,000 years ago, while simultaneously telling the story of a woman living today in a potentially abusive situation.
"It's a very emotional play," Henderson said.
The play includes dancing and singing and will feature a 30-member choir.
"I usually take my stories from Scripture," she said, adding that she chose to explore domestic abuse because "it's such a prevalent issue here … So many of us have friends and family affected by it."
A member of the St. Thomas Reformed Church, Henderson took the idea to her pastor, the Rev. Jeff Neevel, and they approached Vivian St. Juste, executive director of FRC.
The production is funded through a grant from the Virgin Islands Humanities Council and is being presented jointly by FRC and the St. Thomas Reformed Church, but Henderson said representatives from several other churches are also involved.
Performances are set for 7 p.m. Friday, Saturday and Sunday. Admission is free, but patrons are encouraged to donate at the door; proceeds will go to the Family Resource Center.
"Our budget's just under a million dollars a year," St. Juste said. The organization is funded through donations and government grants. It operates facilities and counseling and education for both victims and abusers. While it utilizes volunteers, it also must maintain a paid staff of highly trained professionals.
St. Juste is grateful for the fundraising but indicated she is even more appreciative of the opportunity for awareness-raising.
"We see hundreds of new cases" on an annual basis, "and maybe just as many of people who are looking for healing" because of abuse they endured years ago, St. Juste said. While the majority of adult victims may be women, it is not unusual for men to be abused too.
The center maintains a safe house for emergency situations, a crisis intervention center and a counseling center on St. Thomas. It also offers counseling on St. John at the Myra Keating Smith medical center, and it maintains a 24-hour hotline at 340-776-7867. All services are free to the public.
St. Juste reported there were "seven families in crisis" late last week. With the safe house designed to accommodate only as many as five families, FRC was housing the additional two at a "safe hotel." The need for emergency care fluctuates, and although she's looked for patterns – such as an uptick around Carnival or holidays – she said she hasn't found any. Rather, abusive behavior is individualized.
St. Juste likened domestic abuse and the general tolerance of it to a fire raging behind a closed door, with children trapped in an atmosphere of intimidation and violence that will affect their whole lives, and "people don't even see the smoke."
She's hoping that people will take a closer look this week, not only by viewing "In Her Shoes" but also by attending FRC's annual Candlelight Vigil.
This year the vigil, a quiet march in remembrance of people who lost their lives to domestic violence and those who are still suffering from it, will take place at 5:30 Thursday. On St. John, the demonstration will begin at the Frank Powell Park by the Cruz Bay ferry dock. On St. Thomas, it will lead off from Emancipation Garden.
"We hope the community comes out and supports us," St. Juste said.
Those interested can watch or participate. Individuals who are so moved are welcome to simply join the march, but groups are encouraged to contact FRC beforehand at its main number, 340-776-3966.