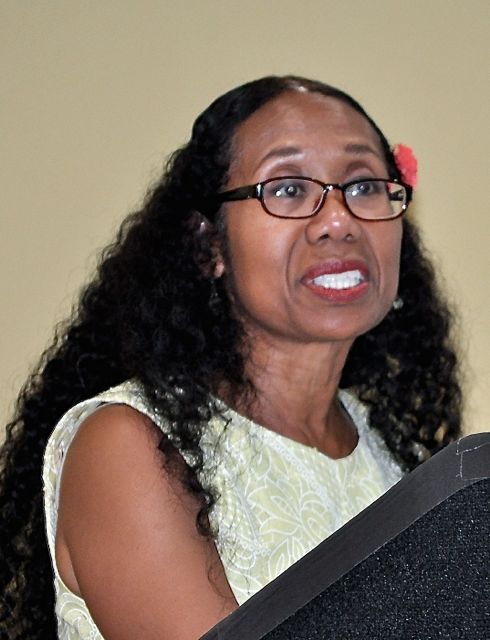 Dr. Kimlin Tam Ashing delivered the 2015 Donna M. Christensen Lecture at the Caribbean Exploratory Research Center's eighth annual Health Disparities Institute on Thursday, saying that health inequities in ethnic minority populations is partly linked to poor representation in research and clinical trials.
Ashing encouraged members of underserved minority populations to be "first in line" to participate in research studies. She also reminded researchers, health providers and advocates how important it is to develop strong relationships with the communities they serve.
According to CERC, the unit of the University of the Virgin Islands School of Nursing who hosted the three-day conference at the Frenchman's Reef and Morning Star Beach Resort this week, research on health disparities in the territory is sparse.
"Access to care, lack of insurance, low levels of education, high levels of poverty and a growing immigrant population may represent significant barriers to health care, health promotion and prevention activities in the Virgin Islands," CERC said in a written statement.
Ashing, a California-based professor and director of the Center of Community Alliance for Research and Education, said in her address that the health-knowledge gap in the United States is widening.
She said that due to historical and current injustices, as well as "ongoing legitimate fears among people of color, low-income persons and immigrant populations, we are not participating in research." Ashing, who is of Chinese and Afro-Caribbean heritage, said, "The data is not representing our health burdens, nor our health interests."
The Virgin Islands, she said, presents particular problems for researchers because it is often not included in regional health data, and the U.S. government has often turned its back on small populations when it comes to funding health research, something she said is changing thanks to advocates such as former V.I. Delegate Donna M. Christensen, for whom Ashing's lecture was named.
"I've only spent a few days here, but I've noticed some very poignant and relevant things for your community," said Ashing. "You're increasingly diverse in country of origin, in terms of ethnicity, language, religion and political status. You have high diversity of job status, income level and education."
This diversity, partnered with the fact that close to 90 percent of the Virgin Islands population are considered ethnic minorities in the U.S. context, make data on health outcomes in the territory hard to come by.
A comprehensive needs assessment conducted by CERC and the St. Thomas East End Medical Center this year was the first health study of populations in the territory who are uninsured, underinsured or otherwise lack access to health care done in 30 years, according to STEEMCC Executive Director Moleto A. Smith Jr.
Ashing said that what data exists in the territory suggests that health outcomes are largely following U.S. trends, which include increases in obesity and chronic diseases related to a lack of physical activity and poor diet.
It's important to understand the cultural context that is leading to these factors, Ashing said. She called on research to act with "cultural humility," which she said is different than the more frequently used term "cultural competency."
Ashing defined cultural humility as "being able to say, 'I don't know. But I respect you as an individual, that you might have a cultural context that is certainly very important. But you are a person.'"
Cultural influences on health outcomes might include stigmas that exist around particular diseases, refusal of certain treatments or dietary factors.
Ashing said that much of her research and advocacy has been related to cancer in minority populations, another thing she said has not been sufficiently studied in the territory.
"We know in the Caribbean that there are very high rates of certain types of cancer, but this is often times sort of anecdotal or narrative," she said. "We have very high rates of prostate cancer. We have high rates of breast cancer that is very, very aggressive."
She said that community-based research may find cancer data in the territory to be distinct from data on African Americans or other population in the Caribbean region.
One ongoing study presented at this week's conference by researchers at the St. Croix Foundation and the Ponce School of Medicine was described as "the first comprehensive research into illness, breast cancer and health rights in the Virgin Islands ever."
Researchers also presented on the subjects of disparities in treatment of asthma, violence against women and sexually transmitted diseases in minority populations.
In addition to Ashing, invited speakers included Dayna Mathew, a Colorado-based professor who specializes in health law, and Deidre Walton, past president of the National Black Nurse Association.