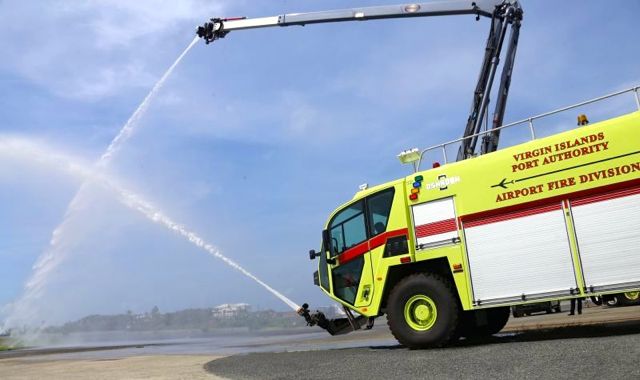 Two weeks of training will give firefighters on the ground at Cyril E. King Airport a chance to learn all the features of a new OshKosh Global Striker 4×4 aircraft and rescue truck, that comes fully equipped with everything from a state of the art fire suppression hose to inside-the-cab technology, that will soon be in operation on St. Thomas.
According to V.I. Port Authority Fire Chief Derek Smith, the authority's aircraft rescue and fire trucks are replaced in 10 to 15 year intervals, and the Global Striker will take over for another in the fleet that will be coming out of rotation.
During a training session with OshKosh at the airport Monday, Smith said the Striker is part of the "newest generation" of aircraft rescue and firefighting trucks, which are specially equipped with a Snozzle that sprays both water and foam from its nozzles.
"When the older generation of trucks came in, the Snozzle was just being designed, but since then, the patent for it has been sold and the company (OshKosh) has turned it into what it is now," Smith said.
The truck can hold up to 1,500 gallons of water and Smith said is designed so that one person can operate it if necessary. During the first week of training, VIPA firefighters learned the different functions of the truck and this week will learn how to use the Snozzle, which Smith said will give his unit an advantage when responding to airport emergencies.
For the most part, the crew and their trucks stay within the airport, except in cases – such as a fire at the Bovoni landfill – when backup is needed and a spare truck can be sent out. Smith said that training is one of the main components of the job and that the unit has to stay in compliance with FAA mandates since its training documents and truck safety specifications are audited annually.
The truck was inspected Monday to ensure the safety of the brakes and other features.
Smith said that the Striker is unique in that it comes with computers, which are not yet in service, that provide everything from computer-generated maps of the airfield to warnings if the truck gets near the runway.