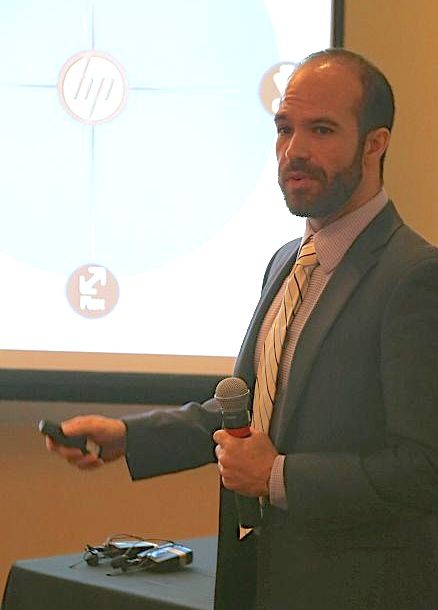 An expo on St. Thomas about the latest trends in servers and storage solutions for business and government agencies gave local information technology managers the chance to explore whether the technology offered by companies such as Hewlett Packard and Intel Corp. is really right for the territory.
The expo Tuesday at the Marriott Frenchman's Reef was cohosted by HP, Intel, Ingram Micro and Universal Business Supplies, an on-island company that's a dealer of HP and Intel products.
Knowing that many local "enterprises," as speakers called them, are becoming more and more digital, Universal owner Scott Barber said the goal of the event was to make sure those in charge or storing and sharing information know what their options are.
Hospitals, for example, are digitizing their medical files and Barber said the popular HP Cloud offers its users a hybrid solution for storage.
"This gives you the ability to keep your data solid but also gives you the option of keeping your own personal information on your own server while using the Cloud as you need to," Barber explained.
At the conference, many local IT managers said the Cloud technology was interesting, but they were unsure if making the entire government's data accessible to the world was a good idea. With many government department and agencies operating for years on their own networks, there has been a push to consolidate data under the V.I. Bureau of Information Technology,
but some, such as the IT division under the local Education Department, wanted to know about how HP dealt with security and backing up information so that it is not lost.
"I think people want to know what the advantages of the Cloud networking are," Education technician Joseph Philbert said. "There are many things that they've been talking about today that we already do, so I think everyone wants to know what new technology, either equipment or a service, they can provide that will benefit us."
Jonathan Tucker, deputy director or processing and technology for the V.I. Internal Revenue Bureau, said that with options such as the Cloud, making sure that local agencies don't come out of compliance with federal disclosure requirements is a top priority.
"We digitize all the tax returns as they come in, so we have exponential growth in terms of our need for storage," Tucker said. "But the agency is not in the position where we can just go out, buy an appliance and plug it in – our budget doesn't allow for it and we have to comply with rules under the IRS – so we have to find the best solution for us."
Tucker explained that the IRB gets audited every three years and, because it can easily be found in violation of federal disclosure requirements, it is important to make sure "all the I's are dotted and all the T's crossed" before anything is put in place.
"We just came out of an audit in 2014 and, in order for us to take the step and move onto the BIT cloud, which is something government is working toward, we have to make sure everything is in place in terms of meeting all federal safeguards," Tucker said.
"We intend to eventually migrate, but we have to do our due diligence first." Tucker said it was great to hear "what is out there so we can set up a path for where we can be two or three years from now."