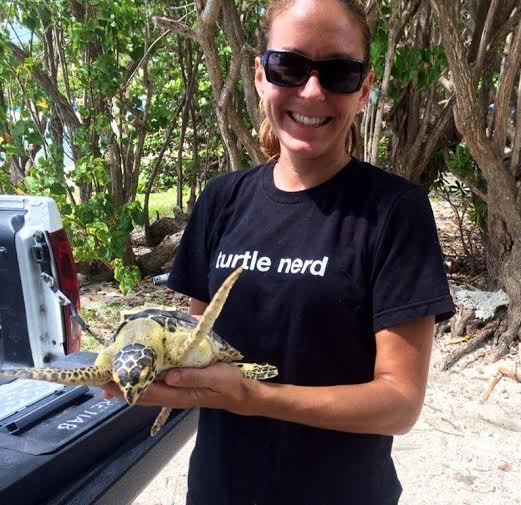 In her eight years as a veterinarian technician at Coral World Marine Park, Erica Palmer has treated almost every kind of animal that swims or flies by the island of St. Thomas, as well as a bevy of land-based inhabitants
This spring she finally had the opportunity to help out a couple of frigates, one of her favorite species, birds she calls "magnificent."
Both birds had damaged wings. A broken wing on a bird can be a death sentence, since it probably will never fly again even if the wing heals. But these two – found a couple of weeks apart – both had soft tissue injuries.
It's impossible to say how the injuries occurred. It may have happened because they flew too low over mangroves and brushed hard against a tree.
"That would be my best guess," Palmer said.
Treatment was relatively easy. All it took was about six weeks of care and feeding while their wings were immobilized so they would heal, and then a few weeks of physical therapy in a special cage where they worked out atrophied muscles. They were released about a week apart, and both flew off looking fine, Palmer said.
The frigates were just two of the many sick and injured wild animals that end up at Coral World for what Palmer calls its "behind the scenes" rehabilitation program.
Palmer is the on-site, hands-on specialist, but she takes direction from veterinarian Natalie Nell, who is based on the mainland, visits throughout the year and communicates and consults constantly. The team is responsible for caring for the park's inhabitants, but also head up the lesser known rehab program.
Every year, Palmer gets involved in rescuing "10 to 40" sea turtles, several pelicans, "tons of gulls," a few raptors, the occasional iguana, and now and then something more exotic.
Included in the last category a few years ago was a nurse shark that was hanging out around the adjacent Coki Beach, looking hungry.
"It was really emaciated," Palmer said. Staff captured it and discovered that although it would eat, it wouldn't gain weight – an indication that it was infested with internal parasites. Coral World regularly sends blood and tissue and fecal samples to stateside laboratories for testing, and samples from the nurse shark confirmed the guess and identified the parasite. With that information, Nell and Palmer knew what type of medication to give the shark and within a month it was healthy enough to be released – well away from shore.
Most of the turtles that get Palmer's attention are hatchlings that didn't make it out to sea, but were washed back to shore, maybe simply by strong waves.
"They only have three or four days' worth of energy" from the sustenance they absorb from their original shells, Palmer said. So if they don't get into the ocean depths where they can feed before their energy runs out, they won't survive. The treatment for potential starvation is simple: Take the hatchlings out to deeper water and release them where they will be picked up by friendly currents and drawn into waters where they can feed and develop.
Palmer has treated older turtles too. The best known of her patients is "Myrtle," probably a teenager, who was named by the boaters who found her, badly injured, about two years ago. She had evidently collided with a boat hull. Her shell was damaged and infected, her spine was exposed and her ribs were broken.
After 13 months of rehab, she was released in the waters near where she was found and has stayed there ever since.
"She lives at Turtle Cove at Buck Island off of St. Thomas," Palmer said. Boaters call in with sightings and send in photos of her looking well fed. "It's a neat community thing."
Then there's the mysterious case of the laughing gulls. In the past four or five years, Palmer said, "Seagulls are coming in with a neurological condition."
They can't fly; some can't even stand. Treatment consists of giving the birds fluids, food and anti-inflammatory medication until they improve. So far, no one has been able to diagnosis them.
The gulls are migratory, coming to the islands from Venezuela. The theory is that somewhere along the way, they may be coming into contact with some sort of chemical in runoff, a pesticide, or something else, Palmer said.
"There's a bunch of variables to this question," she said. "We've done a lot of testing this year."
So far, researchers have been able to rule out botulism and common viral diseases that can cause such symptoms, but they have been unable to say what the cause is, only what it is not.
The rescue work is interesting and gratifying, but Palmer's main job is caring for the marine life and other animals residing at the park. She does a lot of preventive care and that includes a weekly round of checkups.
"We can't look at every fish weekly," she noted, but staff alert her to any obvious changes in an animal's appearance or behavior.
There is also regular exam and lab monitoring of the larger animals, with routines designed to fit each species.
She gets blood samples from each resident shark and sting ray once a year and sends them to a lab for testing. Sea turtles get blood monitoring four times a year, and are weighed at the same time. As with all the animals, "We always want them to be a little bit heavy" so if they get sick they have an "extra buffer" against weight loss.
Parrots are easily disturbed, so they are not subjected to routine blood testing, but there is regular fecal monitoring.
"We try to keep their stress down," Palmer explained.
On the other end of the stress scale, "Sea lions are trained to help in their own medical care," Palmer said. "They lay down; they roll over; they let me look into their eyes, and they let me draw blood. They lay there perfectly calmly."
Palmer seems to have found her own home at the marine park. Her first job, at the age of 15, was working with parrots. When she went into health care at Central Pennsylvania College, she thought she'd work with humans, but it didn't take her long to realize that wasn't what she wanted.
"Animals were really my passion," she said.